Los Angeles and Region
Gov. Jerry Brown Announces Budget In Los Angeles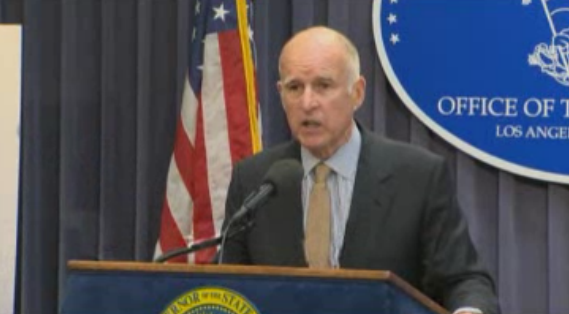 Gov. Jerry Brown arrived in Los Angeles Monday afternoon after a press conference earlier in Sacramento to announce his plan for cutting the California budget by $8 billion as the state faces a $16 billion deficit. Brown's plan needs to be drafted by June 15 and will include a tax hike for those who make $250,000 or more, 4-day state workweeks, Medi-Cal cuts and a 0.25 increase in sales tax.
---
2:57 p.m.:
Mayor Villaraigosa's reaction, as reported by The L.A. Daily News:
"A $16 billion deficit? Come on, everybody. We have to start asking questions. We can't continue to cut for 10 years running," Villaraigosa said. "The size of state government and the budget is smaller today than when when I left 12 years ago. It's smaller than the state of New York and we have 20 percent more people. You cannot continue to cut at this level."
The mayor said he believes officials have to take their case to the public.
"We have to say to Californians it is time to strt investing in our state," Villaraigosa said.
2:47 p.m.:
The Impact On Education:
The L.A. Times reported that universities have been unsuccessful in getting their requests heard by Brown:
University officials unsuccessfully pleaded with Brown to increase their funding to help avoid tuition increases or enrollment cuts; without more funding, UC students could end up paying 6% more, and Cal State students, who already are set to pay a 9% hike for next fall, will face more limits on enrollment next spring. Both systems warn of much more severe measures if voters reject the proposed November tax measures.
2:40 p.m.:
From SacBee:
Assembly Speaker John A. Perez, D-Los Angeles:
"Today's May Revision to the budget makes clear that a significant budget problem remains. We will continue to work with the Governor and the Senate to close the remaining budget problem; which will require the Legislature making tough cuts and the voters approving temporary revenues. To date, the Assembly has held over 60 budget hearings, and we will immediately begin hearing the May Revision proposal. Through an open and transparent process, we will craft an on-time, balanced budget by June 15."
2:30 p.m.:
Gov. Brown thanks everyone- asks if they're "out of here energized and optimistic...?"
2:26 p.m.:
Gov. Brown hands questions over to a spokeswoman, saying "She knows a hell of a lot more."
2:22 p.m.:
Gov. Brown says, "I think people of good will will want more to come into schools."
According to The L.A. Times, Brown's plan is "built around the expectation that voters will approve higher taxes in November. Without those levies, he said Monday, public schools and community colleges would be sliced by $5.5 billion, and the University of California and California State University systems would be cut by $250 million each. Other popular programs, like lifeguards at state beaches, would also get the ax, for a total of nearly $6.1 billion in extra cuts."
2:11 p.m.:
Reactions from SacBee:
Gov. Jerry Brown's budget revision was met by criticism from leaders statewide, though most said that Brown's increased budget deficit was not a surprise.
For Republican leaders, many said the plan's main shortfall lies in not including a clear economic plan to help businesses and the unemployment rate.
Senate Republican Leader Bob Huff of Diamond Bar:
Despite an 11% unemployment rate, two million Californians out of work, and California being ranked the worse state in the nation to do business 8-years in a row, the Governor and Democrats have no proposals to help grow the economy or to help our small business community. Republicans believe we must get people back to work, which in turn will responsibly increase our state tax revenues."

2:04 p.m.:
The initiative will be on the ballot for voters to decide.
2:00 p.m.:
Brown says, even though the deficit "is a big problem, we've got a big answer. And the answer is cuts and tax revenues.... they're fair and mostly go to those who were able to double their California income... We're asking them to give back a little for 7 years."