Opinion
Goldman Sachs Gives More To Democrats Than You Think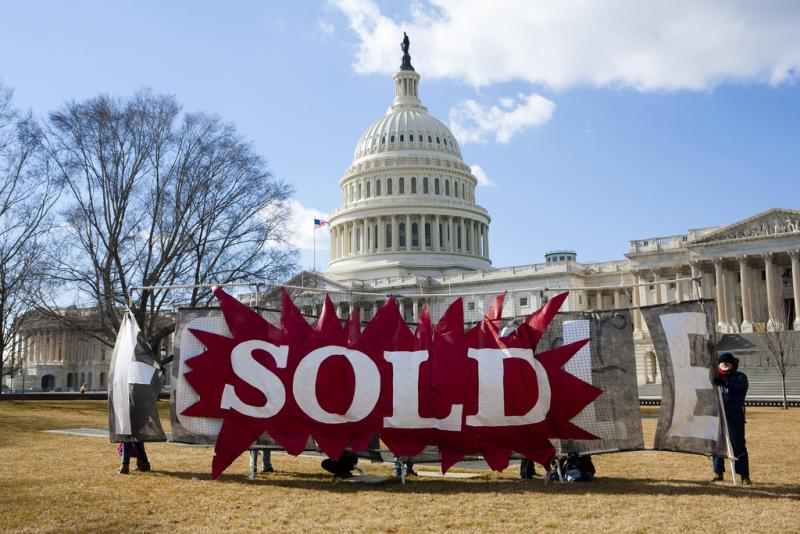 Waiting for Democrats to enact campaign finance reform is like waiting for Tupac to come back from the dead. The hologram makes us feel good, but at the end of the day it isn't real. Tupac isn't coming back, and Democrats aren't going to enact campaign finance—at least not without a tremendous amount of public pressure.
This is because democrats benefit just as much as republicans do from corporate money. They might even benefit more from corporate money than republicans.
As I was researching the numbers on the amount of money that flows in to politics from corporations I stumbled upon a list from the Center for Responsive Politics—a non-partisan group that reports on contributions made to political parties and candidates. The list entitled "Heavy Hitters" tracks the groups that have given the most money to politicians since 1989. I expected the list to be filled with right-leaning groups.
I was wrong. The top 15 on the list were either party-neutral or heavily supportive of democrats. Even Goldman Sachs, which is #7 on the list, has supported democrats to the tune of 58 percent, versus the 38 percent they have given republicans.
So, when democrats in Washington tell you they are going to do something about campaign finance reform, don't believe them for a second. Politicians in both parties are influenced by big money donors, especially in Washington. If we're going to win this fight, we'll win it at the state level—and we've already made significant progress.
The California Assembly voted 48-22 this week to approve Assembly Joint Resolution 22, jointly authored by assembly members Bob Wieckowski (D-Fremont) and Michael Allen (D-Sonoma County). Assemblyman Michael Allen stated:
"I was never taught in school that our democracy was founded 'of the corporation, for the corporation, by the corporation.' I'm proud of my colleagues who chose to stand up and send a clear message, that California is ready to fight to return our democracy to the people."
Hawaii and New Mexico have passed similar resolutions, and cities and districts around the country as rising up to show their support for a constitutional amendment overturning the Citizens United Supreme Court ruling.
We have the momentum, but we can't stop now. Contact your local representatives and tell them you want your state to pass a resolution similar to CA, AJR-22. Tell them to stand up for their constituents and support a constitutional amendment overturning Citizens United.
Let's get to work.
Click here to learn more about what you can do.
Follow Ryan Shaw on Twitter here.