Politics
Gingrich Weighs Debt As He Prepares To Endorse Romney
As Newt Gingrich prepares to officially exit the presidential race and endorse his rival Mitt Romney, he's likely thinking about what he can get in return.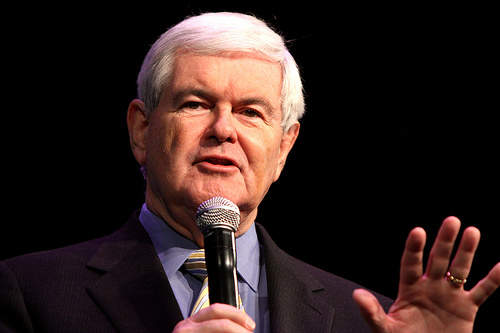 Gingrich's failed campaign, which had a promising surge early on but later sputtered, is about $4.5 million in debt. With an endorsement from Gingrich, Romney might relieve his former opponent of some of that burden.
This is nothing new in presidential campaigns.
An in-depth report in Bloomberg Businessweek illustrates how long some failed candidates carry the debt burden. Hillary Clinton ended her 2008 campaign $25 million in the hole. Barack Obama asked his supporters to help her out with donations.
Tim Pawlenty, whose debt totalled $435,542 after dropping out, was bailed out big time after he endorsed Romney.
Romney's deep pockets were the target of many jabs throughout the primary campaign. But now that Gingrich is spent, the "vulture capitalist's" cash likely doesn't look so bad.
Gingrich is not the only former candidate hoping for promises from Romney before offering endorsements. Socially conservative stalwart Rick Santorum, who at one point in the campaign called Romney "the worst Republican in the country" to oppose Obama, is having a meeting with Romney to make sure conservative interests are represented in Romney's general election campaign moving forward, according to the Associated Press.
"Rick just wants to have a candid, open conversation about making sure the folks in the 11 states that voted for him, and the conservative movement, have a voice in the Romney campaign," Santorum advisor Hogan Gidley told the AP.
But given the nastiness with which both Santorum and Gingrich attacked the now-inevitable nominee, it seems uncertain how willing Romney will be to lend his helping hand. Considering the bitterness of the Obama/Clinton rivalry, however, it's clear some politicians are willing to let the customarily brutal attack ads slide.
After all, as the Atlantic's Molly Ball points out, Romney may be all-to-obliged to help Gingrich and Santorum. He owes them for making his campaign look good.