Los Angeles
City Urges L.A. Fire Department To Fix Its Response Time Data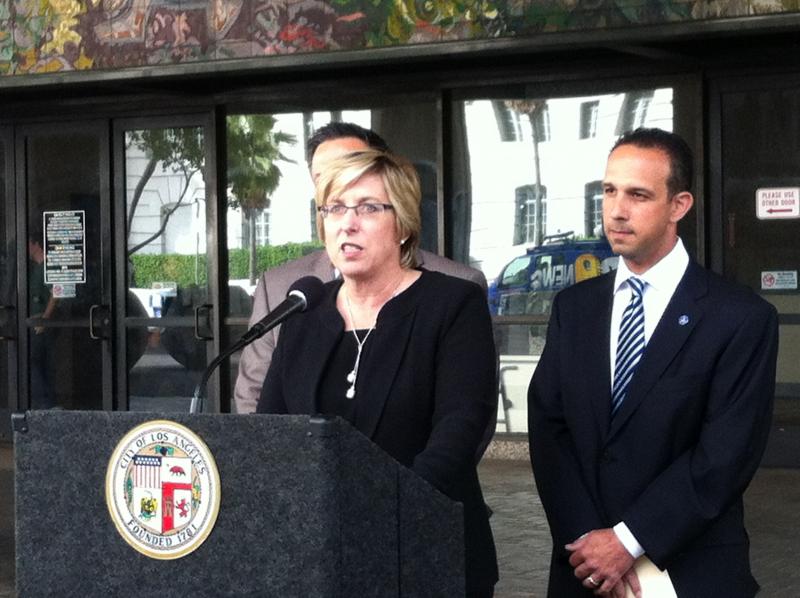 City Controller Wendy Greuel released her analysis of the Los Angeles Fire Department (LAFD)'s incident response times Friday, saying there has been an increase in the response times for medical first responders. Greuel also found that the data provided by LAFD was inaccurate and unclear with the delays still unknown.
The report showed that between January 2007 and July 2009, average response times for turnout and travel of Emergency Medical Services (EMS) incidents have increased by 12 seconds citywide: from 4 minutes, 45 seconds to 4 minutes, 57 seconds.
The San Fernando Valley was most impacted with the average response time increasing by more than 20 seconds. Response times also rose by an average of 18 seconds for East Los Angeles, San Pedro and the Metro area.
Greuel said LAFD's performance could not be compared to the National Fire Protection Association standards since about 650,000 of the 1.9 million incidents they reviewed were coded as being "emergency" or "non-emergency" at the discretion of the dispatchers.
"As a result, there is no way to determine whether the LAFD has met its 90 percent goal because emergency incidents were not clearly indentified," Greule said.
Councilmember Mitch Englander said that the LAFD took up to three months to generate the report, and if the data wasn't accurate, it would take them another three months to analyze. Englander also said the LAFD did not know the exact number of dispatchers behind the phones.
"It is ridiculous," Englander said. "It makes absolutely no sense not to have real-time data to analyze every single day."
Currently, Englander said there was no communication between the command staff and LAFD staff working in the station, and he urged the fire department to change its data-tracking process and provide accurate response times.
According to Gruel, the LAFD also misused resources. She said there was no GPS system in the fire trucks and that firefighters were using their cell phones for directions. Both Greuel and Englander said the current priority was to measure the problem with the correct data.
Pat McOsker, president of United Firefighters of Los Angeles, blamed the slower response times to budget cuts. He said the delay pointed out by Greuel was from a lack of dispatchers and boots on the ground, and that the mayor and fire chief had planned to cut the number of dispatchers by 43 percent.
"We have 26 dispatchers on duty in Los Angeles making 1,300 dispatches on thousands of emergencies, taking 4,800 calls every day," McOsker said.
In McOsker's opinion, he believed the city had manipulated the information and had been pushing for budget cuts, "using flawed data and changing their story every five minutes to defend themselves when they are caught."
He also pointed out that it takes a dispatcher an average 1 minute and 45 seconds to go through the process of sending an ambulance because the fire department was trying to conserve resources.
"We don't have enough ambulances and fire trucks," McOsker said, "We are going on thousands of emergencies a day, and every day many of them are delayed by these budget cuts."
Reach Shako Liu here.