International
Chen Guangcheng Settles Into Family Life In Greenwich Village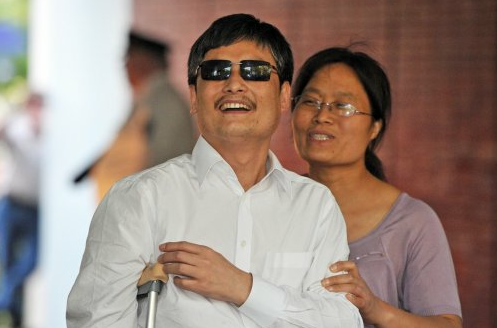 After a years-long ordeal battling the Chinese legal system, political activist Chen Guangcheng is settling into a quiet life in New York's Greenwich Village with his wife, Yuan Weijing, and their two children. He spent his first weekend soaking up some sun-- a rare privilege for the long-jailed dissident.
"(Chen) said he hadn't sat in the sun for many, many years," Jerome Cohen, a China law expert and professor at New York University's law school, where Chen will study, told the Chicago Tribune.
The peace of his green, leafy street is a far cry from the political and legal turmoil that has punctuated his life for the past 7 years.
Chen, an advocate for the rights of women and the disabled, made international headlines in April when he made a daring escape from house arrest and fled to the U.S. Embassy. After leaving the embassy and much diplomatic wrangling between the U.S. and Chinese officials (and quite a bit of public outrage), Chen arrived in Manhattan on a student visa Saturday.
According to the Daily Beast:
Chen and Yuan are keen to ensure their children have a smooth transition as they learn the language, find new friends, and enter new schools. The parents may need some time to adjust to their new lives as well. First, there's the language barrier; neither Chen nor Yuan speak very much English. Now that he's left home, there's also a question of how much influence Chen will have in his campaign to improve human rights for Chinese. In past years, Chinese authorities have allowed a number of high-profile dissidents— including the late astrophysicist Fang Lizhi (who'd first spent 13 months inside the U.S. Embassy), Tiananmen student protest leader Wang Dan, Uighur human-rights activist Rabiya Kadeer, and others—to travel to into exile in the U.S. as a way of ridding China of so- called troublemakers. Beijing counts on exiled dissidents to become increasingly marginalized as their ties to China grow stale.
Many consider the Obama administration to have originally bungled its handling of Chen's case. This could spell an opportunity for Romney to capitalize on the human rights agenda.
From the Huffington Post:
This incident highlighted the need for some talk during this election cycle about America's continued commitment to human rights activists around the world.
Republican presidential candidate Mitt Romney initially showed strong support for the release of Chen, but has remained silent after criticizing the administration's release of Chen from the embassy.
Chen's taking asylum in the US now presents Romney with an opportunity to highlight his support for Chen's work and to oppose the current diminished American commitment toward human rights struggles around the world.
If he were smart, Romney would go to New York City and welcome Chen to the US. He should link arms with him near his new home under the Washington Square Arch, which commemorates our first president's first inauguration into office and America's embrace of the ideals of human rights and democracy.
As Chen begins his legal fellowship at NYU, peace is a relative term. While his life is certainly more peaceful than it has been in recent memory, there is a satellite-television truck parked on his block, which has also been staked out by photographers and reporters.