International
Annan In Syria Following Houla Massacre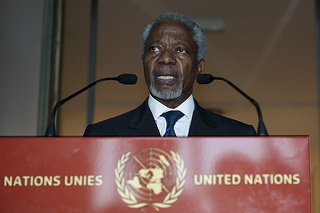 United Nation's special envoy Kofi Annan travelled to the Damscus Monday amid reports of ongoing shelling following Friday's
massacre of more than 100 people
. Annan
called
for "every individual with a gun" to lay down arms.
The Syrian government has denied responsibility for the deaths but the U.N. Security Council blamed the Assad regime in a statement issued Sunday.
"This was an appalling crime, and the Security Council has rightly condemned it," Annan said.
At least 108 people were killed in Friday's violence, both in shelling and in execution-style shootings by militia forces. This is one of the bloodiest single incidents since the uprising began 14-months ago.
The U.N. reported 49 children and 34 women were among the dead, according to AP.
The latest violence has strained ties with some of Syria's political allies but they stopped short of placing the blame on government forces.
From the Washington Post:
Russia and China signed on to the U.N. Security Council statement, signaling their harshest criticism yet of the Syrian government's behavior. The statement attributed most of the killings to "government artillery and tank shellings on a residential neighborhood," in violation of a Security Council resolution that calls on Syria to halt violence against civilians and withdraw troops and tanks.
But on Monday, Russia's Foreign Minister Sergey Lavrov made it clear that Russia also holds armed rebels responsible for much of the violence that appears to have escalated in recent days.
Meanwhile, the U.K. and France are trying to ramp up the pressure on the Assad regime.
From the Wall Street Journal:
Britain and France called on the Syrian government Monday to immediately cooperate with envoy Kofi Annan after the attack on the town of Houla left him struggling to salvage the U.N. peace plan.
U.K. Prime Minister David Cameron and French President Francois Hollande said they would work together to build international pressure on the regime of President Bashar al-Assad.
"Annan must have the means necessary to carry out the mission entrusted to him in very difficult conditions and "the regime in Damascus must immediately co-operate fully with him," a spokesperson from Cameron's office said in a statement.
The Obama administration has been trying to win the support of Russia for a new plan that would remove Assad from power but leave much of the government intact, much like the deal made with Yemen's Saleh earlier this year, the Guardian reported.