MLB
Angels' Jered Weaver Throws A No-Hitter, And I Missed It By *That Much*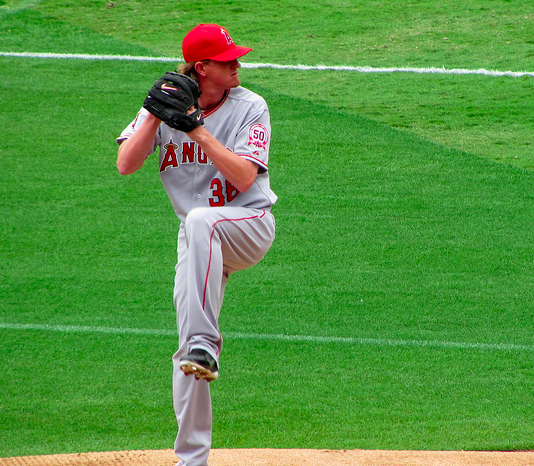 There are at least three entities in baseball that have never witnessed a no-hitter in person: the New York Mets, the San Diego Padres and me. The first two have never had a pitcher toss a no-no. I've never seen one in person, especially since the last time my hometown Pirates recorded one was in 1997.
But today I came close. By about ten feet and five pounds. I'll explain in a moment.
I'm working on a story for a USC Broadcast Reporting class about the possibility that the Los Angeles Angels of Anaheim might leave Orange County for L.A. in the not-so-distant future. So I took the train from L.A. Union Station to Angel Stadium to talk to some Halos fans and shoot b-roll outside the ballpark.
The people I talked to were incredibly nice and gracious with their time, and no parking lot personnel hassled me about taking video of the stadium's exterior.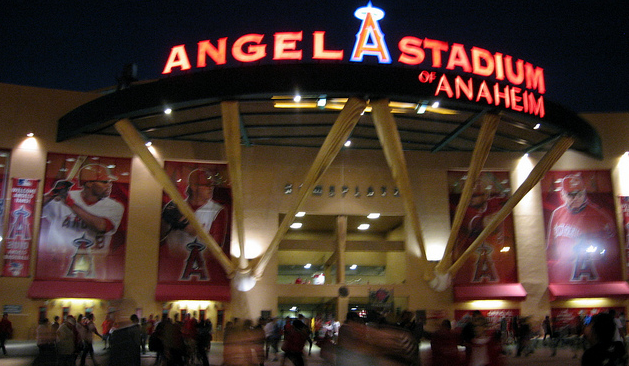 I didn't plan to stay for the game. It looked to be a standard Wednesday night affair with the Twins, and I didn't want to get back to campus too late.
Instead, I walked back to the train station. After getting all my video shooting done, I did think for a minute about sticking around, especially when I saw a few guys trying to hawk tickets for less than ten bucks.
But I couldn't, I told myself. The sun was setting over the freeway and I didn't want to get back to campus too late. It was already 8 p.m., about one hour after first pitch. Plus, the Angels website says that "camera support pods," like the five-pound-heavy tripod I was carrying with me, aren't allowed inside the stadium. I was ten feet away from walking in those stadium gates, but instead I was headed home.
Well, you probably know how this story ends.
I hopped onto the train and put my iPhone on Airplane Mode, so I could listen to music without wasting too much of the battery. So I never thought to check the score of the game I walked past. I got home around 9:30 pm, happy with my day's work. Happy, that is... until I flipped open my computer and saw these three tweets:
BREAKING: Angels ace Jered Weaver tosses no-hitter against the Twins: atmlb.com/JrPx4c — MLB (@MLB) May 3, 2012
Congratulations to Jered Weaver!! The former @LBSUAthletics pitcher gets the no-hitter. — Shotgun Spratling (@SoCal_CBDaily) May 3, 2012
No no yfrog.com/klopvegvj — Eric Kay (@EKayAngels) May 3, 2012
You have to be kidding me. My jaw dropped so far that it dug a hole to China. I spent at least five hours traveling to-and-fro and getting my video, and one decision and one lousy tripod kept me from stepping inside that ballpark and experiencing the fabled thrill of a no-hitter.
And it's even worse than that! The ticket I bought from L.A. to Anaheim was a special deal MetroLink ticket: for $7, the Angels train takes you to the stadium, then heads back to Los Angeles 30 minutes after the last out. Since I didn't want to wait for that train, I bought a separate one-way Amtrak ticket for $14 that would get me back to L.A. much faster. Not only did I just barely miss out on a no-hitter, I paid 14 bucks for the privilege of doing so.
What did I learn? Sometimes it's better to stop a while. I could have put the tripod in a locker at the Anaheim train station. Taken in the game for the price of a Subway premium sandwich. Witnessed history.
Someday I'll see a no-hitter in person. I'm sure of it. There have been at least 250 others thrown in Major League history. But just to be extra careful, I'm never walking past a ballpark without knowing what the scoreboard reads.
-------------------------------
Reach James by email or follow him on Twitter, @JamesSantelli.