Los Angeles
Community Members Stand Up For Adult Education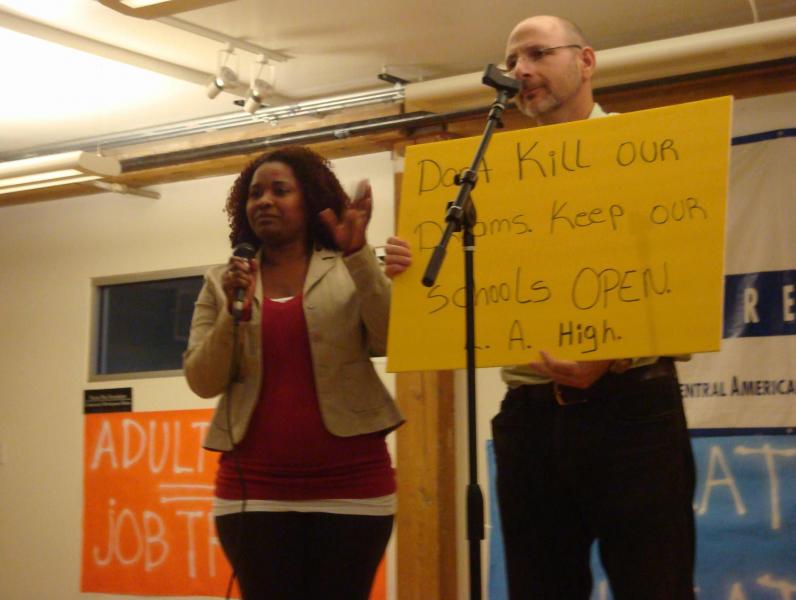 About 300 concerned members of the community gathered to speak up against cutting adult education programming in Los Angeles public schools.
Attendees at a Pico Union town hall meeting Friday night vowed to call upon the Los Angeles Unified School District (LAUSD) Board president's office Tuesday to try to put a stop to the proposed cuts.
One general concern among the crowd was that pulling the program would deprive adults of the privilege of continued education and the opportunity of a better future.
David Lyell, union secretary of United Teachers Los Angeles, said the city would rather use limited private funds to hire a social media director than save adult education.
"You have people who want to make a better life for themselves," Lyell said, "They are trying to get a GED so they can get a job or just a decent job that is above the poverty line."
Now those people face losing that possibility. Matthew Kogan, chairman for the Adult Education Committee, said the exact amount of the cuts is unclear. But as LAUSD struggles to deal with a $557 million deficit, adult education has become a prime target for cuts. The program currently serves about 337,000 students in 30 schools across the district.
Budget cuts are also threatening teachers with the prospect of unemployment. Juan Noguera, who has taught in the program for the last 12 years, said his contract ends June 30. Though he already has another job offer from China, Noguera said the fight is not just about keeping his job. He said adult education has become a part of L.A.'s history, starting in 1886 and carrying on even through the Great Depression.
"I think the best way to get out of the economic crisis is to keep this program," Noguera said, "because it is the only way to give tools to these people to find a better job and contribute to the economy."
LAUSD runs the second-largest adult school program in the U.S. Each year, an estimated 300,000 adults and high school students from low- to moderate- income communities attend classes on campuses throughout the city.
Nelson Castillo, president of the Westlake South Neighborhood Council, was one of those adult students. After getting his GED, he worked his way through college and later law school.
"I was a high school dropout. I am now an attorney," Castillo said. "If (the program teachers) are not there, I don't know who else is going to provide a GED for them."
Sara Shakir, 44, was also saved by adult education programming. Now a producer and reporter at KPFK, she used to work at a car wash earning $12,000 a year. She said at one point she broke her foot on the job but couldn't ask her employer to pay for her medical treatment because she didn't speak English.
Adult education programs helped her not only learn English, but also to speak up for her own rights at work. But Shakir said the biggest benefit of the $40,000 raise in income wasn't for her. She is now able to financially support her niece going to UCLA.
"If it weren't for the adult education," Shakir said, "I would still probably be washing cars."