NBA
2012 NBA Playoffs: Western Conference Semifinal Preview (Lakers vs. Thunder)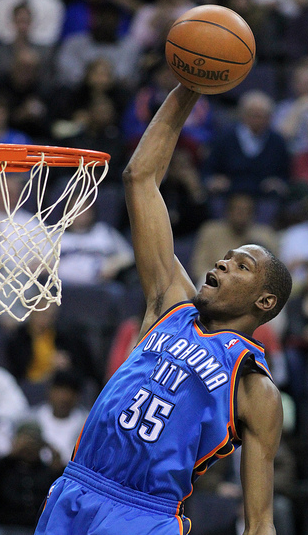 The Oklahoma City Thunder and Los Angeles Lakers meet in Game 1 of their Western Conference semifinal series Monday at 6:30 p.m.
And judging from the way both squads fared in their respective first-round matchups, the series-opener at Chesapeake Energy Arena could signify the passing-of-the-torch moment that L.A. fans might have a tough time accepting.
On the other hand, perhaps the prolonged battle with the Denver Nuggets will help instill a sense of urgency in a veteran Lakers team that knows its title window is closing.
Regular season series: Thunder won, 2-1
Oklahoma City knocked off the Lakers in the first two regular season meetings by an average margin of 12 points.
In the Thunder's lone loss to L.A. — marred by an infamous elbow incident that will be discussed later — Oklahoma City stars Kevin Durant and Russell Westbrook shot a combined 14-for-56 from the field (Russell went 3-for-22) as the Lakers pulled out a 114-106 win in double overtime.
How they got here
Oklahoma City wasted little time sweeping the defending-champion Dallas Mavericks, as the team gutted out some nail-biting wins with the mettle of a battle-tested squad. The Thunder earned a nine-day rest thanks to its ability to make quick work of the Mavs.
But things did not go as smoothly for the team that probably needed those days off more than the youthful Thunder. The Lakers struggled to fight off a scrappy Nuggets team that traded blows and outworked L.A.'s big men despite their height disadvantage. It took 11 three-pointers — five and four from Steve Blake and Metta World Peace, respectively — to put Denver away.
Deadliest Gun In The West: Kobe Bryant vs. Kevin Durant
Chances are, we will see James Harden assigned to Bryant and World Peace shadowing Durant, but the scoring duels between these two have the potential to be one of the more memorable in playoff history.
Bryant is coming off a first-round series where he averaged 29.1 points and five assists per game. Durant posted averages of 26.5 points, 7.8 rebounds and 1.8 blocks per contest against Dallas, after wrapping up his third straight regular season scoring title.
But the Black Mamba didn't have anywhere near his best games against the Thunder this season. Bryant averaged just 24.3 points and shot a little more than 30 percent from the field in the three previous contests thanks in part to Harden's defense.
Durant reached the 30-point mark in two of this season's meetings with L.A., but he will likely face a Metta who is hungrier and more tuned in than he was earlier this season.
Battle of the Bigs
While the Kobe-Durant shootout might draw top billing, the battle in the trenches could also decide this series. The tussle inside the paint between the offense of the Lakers' Pau Gasol and Andrew Bynum and the defense of OKC's Serge Ibaka and Kendrick Perkins could provide some bruising affairs.
Both squads placed top five in the league in rebounding during the regular season, and are the top two shot-blocking teams so far in the playoffs. L.A. could catch a break with Perkins possibly at less than 100 percent (Sound familiar, Celtics fans?), due to a hip injury, but Ibaka's activity around the rim will still be something the Lakers have to watch out for.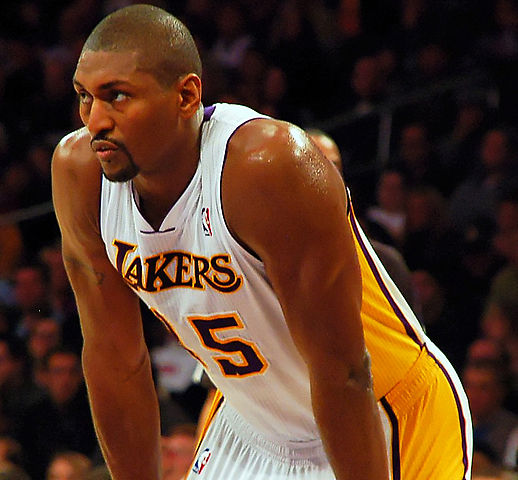 World Peace-Harden II
Sure, both guys will probably be too occupied guarding the other team's superstar to focus on one another. But it should be interesting to see what the on-court interaction will be like after World Peace's elbow caught the side of Harden's head during their most recent game back in late April.
Will Harden grow his beard a little thicker for added protection? Will Oklahoma's raucous fans try to provoke Metta until he unleashes the old Ron Artest? Stay tuned.
Derek Fisher Faces Old Team In Playoffs
Fisher may have already returned to Staples Center as a Thunder player following his departure from the Lakers. But the May 18 trip to L.A. to face his former club carries playoff implications this time around.
The 37-year-old knocked down his share of unforgettable playoff shots during his time with the Lakers, including this buzzer-beater that's probably still fresh in the minds of L.A. fans. Any chance of a dagger three to send the Lakers fishing?
We probably won't see any D-Fish freestyle raps asking Kobe how his derriere tastes. But Fisher did choose his age for his jersey number upon arriving in Oklahoma City — possibly as a jab at a certain organization that thought he was finished.

Prediction: Thunder in five
The Lakers' size should give them the inside scoring and rebounding prowess to keep the games competitive, but Oklahoma City just provides too many matchup problems to overcome because of the team's superior speed and athleticism. The older Lakers took a couple games too long to finish off Denver, and in the process, gave the Thunder ample time to rest.
Westbrook will dribble circles around L.A.'s point guards and could be due for a monster series. The rapidly maturing Thunder will take the next leap toward establishing themselves as the NBA's team to beat out West.
Series Schedule:
Game 1: Los Angeles at Oklahoma City (May 14, 6:30 p.m. on TNT)
Game 2: Los Angeles at Oklahoma City (May 16, 6:30 p.m. on TNT)
Game 3: Oklahoma City at Los Angeles (May 18, 7:30 p.m. on ESPN)
Game 4: Oklahoma City at Los Angeles (May 19, 7:30 p.m. on TNT)
Game 5: Los Angeles at Oklahoma City (May 21, TBD on TNT)*
Game 6: Oklahoma City at Los Angeles (May 23, TBD on ESPN)*
Game 7: Los Angeles at Oklahoma City (May 27, TBD on TNT)*
*If necessary