Los Angeles and Region
Student Protestors Pepper Sprayed At Santa Monica College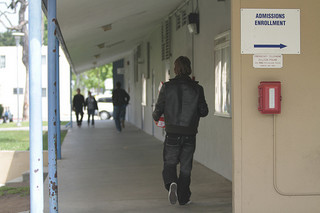 Roughly 30 campus protestors were pepper sprayed at Santa Monica College Tuesday after students gathered to protest outside a Board of Supervisors meeting over a measure that would more than triple tuition costs per unit.
The proposed measure, known as Contract Ed, will essentially hike up an additional 50 summer courses from $46 per unit to $180 per unit. A typical course is three units.
According to Andrew Riesmeyer, staff reporter for SMC's paper The Corsair, the Board of Trustees made the decision to add the 50 most high-demand classes such as English, Math and Science to allow students an opportunity to register for classes that normally fill up quickly. He said these are the courses required for transfer to other colleges such as four-year institutions.
This comes in addition to a state increase on tuition costs per unit for 700 state-funded courses at SMC beginning this summer.
A statement released by SMC President Dr. Chui L. Tsang said that students were expected to be seated during the meeting with extra students being allowed to sit in an adjacent room. He said many chose to stand in the hallway in front of the Board Room and "overrun the door and the personnel stationed at the door."
An SMC police officer proceeded to spray the crowd with pepper spray, which affected everyone from college staff, students and even other police staff. No arrests were made. After an hour, order was resumed and the meeting continued with students being allowed to make public comment.
"You could taste the pepper spray in the air," said Riesmeyer.
Riesmeyer, who attended the meeting, said students were chanting "No cuts. No fees. Education should be free." Another protestor cried out, "Don't' you see what you're doing to us. You're taking away our education."
Bruce Smith, public information officer for Santa Monica College, was unable to be reached for comment. A recorded message said a comment will not be issued due to a large influx of phone calls.
California's budget crisis and cuts to education have trickled down to a college with one of the lowest tuitions for a two-year school. The school currently costs around $896 for a full-time student, according to figures from the department of education. However, SMC tuition has seen an overall increase of 37 percent from the previous school year, where tuition was just $652.
Paying $134 more per unit may seem insignificant for those who are paying closer to the national average of roughly $2500, but Riesmeyer said there is a greater social issue.
"It's this idea that there's this social contract with the state to provide education to the community, and it's [the students'] appreciation for that idea that makes them upset," he said.
"Students don't want to have to cut classes. They want an education, but the [Board of Trustees] don't really have money from the state," said Riesmeyer.
Talks are expected to continue regarding the protest and the tuition hike on campus Thursday morning.
Reach staff reporter Subrina Hudson here.