Sports
Sneak Peek: USC's New John McKay Athletic Center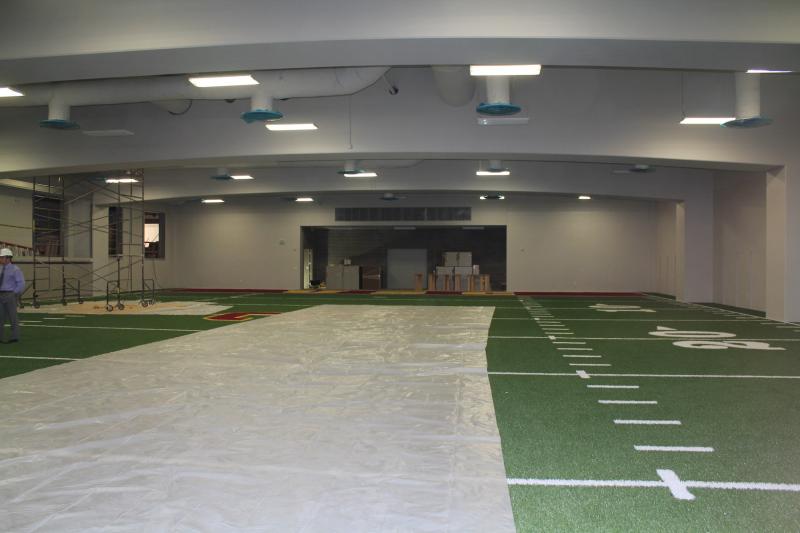 The University of Southern California is set to unveil the $70 million, 100,000 square foot John McKay Athletic Center in July--and 'SC's athletic department insists it can't come quickly enough.
"We're three decades behind," Senior Associate Athletic Director Mark Jackson said of USC's current facility. With Athletic Director Pat Haden, Jackson visited dozens of top collegiate athletic programs for inspiration in designing the new building.
Named for the legendary USC football coach, the center will include a two-story video wall in the main lobby and wall-portals for iPads. The pigskin-shaped football locker room will include an iPad in each locker. The weight room is eight times larger than the current facility, and the sports medicine area five times larger. All 21 USC sports and 600-plus student-athletes will have access to the facility.
The building was "designed with the recruit in mind as well," Jackson said. The video wall will be visible throughout the lobby, including from a second story lounge where recruits can wait with their parents.
The main floor is composed mostly of study spaces, while the second floor is for meeting rooms, football offices, and an all-sport recruiting lounge. The weight room, nutrition center, football locker room and a 30-by-40-foot field of artificial turf are all downstairs.
The building will connect via underground passage to the current athletic facility, Heritage Hall. Heritage Hall is in for some major renovations of its own. The plan is to create a "cutting edge museum-like space" that will act as a public showcase of USC's athletic history. The administrative space at Heritage Hall will be expanded. Golf, soccer, lacrosse, and crew will remain there, while all other sports will operate out of the McKay building.
Construction on Heritage Hall is expected to start in January 2013, and last for about a year.
_________________________
Reach Kate by email, or follow her on Twitter.