International
Report: Wal-Mart Covers Up Vast Bribery In Mexico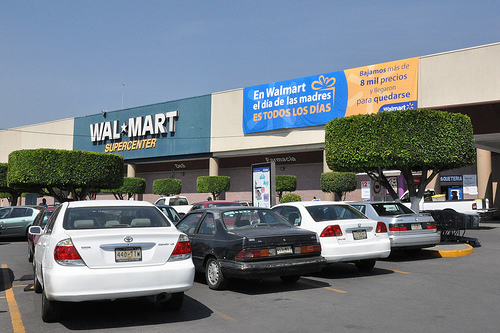 Wal-Mart executives allegedly shut down an investigation into its largest foreign subsidiary, Wal-Mart de Mexico, for paying more than $24 million in bribes to obtain permits in a rush to build stores across the country,
The New York Times
reported Saturday.
The newspaper reported that a former executive from Wal-Mart de Mexico, Sergio Cicero Zapata, emailed a senior Wal-Mart lawyer about the bribery in 2005, giving names, dates and bribe amounts. Cicero said he knew the detailed information because for years he had helped conduct payoffs and been the lawyer in charge of obtaining construction permits for the company, the Times reported.
Wal-Mart sent investigators to Mexico City, found evidence of the bribery and documents showing that the subsidiary's top executives knew of the payments and even worked to conceal them from Wal-Mart's headquarters. The company's lead investigator recommended further investigating but The Times found that Wal-Mart's leaders stopped the investigation instead.
"If these allegations are true, it is not a reflection of who we are or what we stand for," spokesman David Tovar told the Times. "We are deeply concerned by these allegations and are working aggressively to determine what happened."
The Times reported:
In December, after learning of The Times's reporting in Mexico, Wal-Mart informed the Justice Department that it had begun an internal investigation into possible violations of the Foreign Corrupt Practices Act, a federal law that makes it a crime for American corporations and their subsidiaries to bribe foreign officials. Wal-Mart said the company had learned of possible problems with how it obtained permits, but stressed that the issues were limited to "discrete" cases.
Forbes quoted the FDA Law Update Blog, saying that the Department of Justice has been "extremely aggressive in its prosecution of FCPA violations. Eight of the 10 largest FCPA fines in history occurred in 2010, and multi-million-dollar fines have now become routine." Forbes continued to say that even a fine of $300 million "would be a piffle" for Wal-Mart that claimed $443 billion in sales this fiscal year.
"We do not and will not tolerate noncompliance with F.C.P.A. anywhere or at any level of the company," Tovar said.
---------
Reach executive producer Agnus Dei Farrant here.