Entertainment News
"Real Housewives Of Atlanta" Season Finale: Let's Celebrate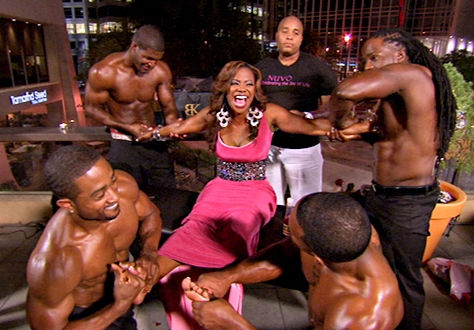 It's the last episode for "
Real Housewives of Atlanta
!"
This season has had it ups and downs. Nene and Sheree didn't see eye to eye, Phaedra has been hard at work on her funeral business, Cynthia and Peter have a strained marriage at times, Kandi is all about sex---toys that is, Marlo came in wrecking havoc and looking fabulous, and Kim had a baby! In between that madness, the ladies hit up South Africa, Sheree may have scared off her daughter's potential husband, and Nene has something going on with her business partner.
The final episode opened with Nene and Cynthia shopping for furniture. Nene who usually loves shopping isn't as upbeat, she confided in Cynthia that she can't make it work with Gregg. She is going to proceed with the divorce, but she sure will miss Gregg's sex.
Kandi of course is overjoyed with her toy line. She received the samples and its everything Kandi wanted. She was already talking about people using it in the plane, proclaiming the air is not safe. Of course she has to throw a party to celebrate and market her goodies!!
Mrs. Cynthia finally has her casting call for her modeling agency. Of course everyone who is anyone in Atlanta showed up. Peter actually attended this event which he helped produced. (Yay Peter) and it actually turns out well.
Speaking of casting calls, Cynthia was not the only way auditioning talent. Kandi was looking for some hot men for her party. Phaedra of course was there and naturally Phaedra wants strippers. (She has quite a love for the art form). Sheree joined in at this casting. The ladies were critical, complaining when men had "taco meat" on their chest. One man scored as he fed Kandi food. She asked for a happy ending.
Kim was in "lover-land" with her boo Kroy. They celebrated his birthday! He turned the ripe old age of 26! But Kim is only like 32 right? Kim told Kroy how there was a void with Big Poppa but he fulfilled her. "You can only buy so many purses and so many shoes to fill that void." She sealed that love with a new Porsche for her baby!
Nene met up with her "business partner" that pizza guy. They do talk a little business. Nene wants to open a lounge in Atlanta, and he says New York is better. He of course has a present for her--a rolex. A rolex is timeless he explained. Although I'm sure this "relationship" is running out of time.
It was time for Kandi's happiness and joy celebration. Her mom comes out to enjoy the sex toy party! Kandi tweeted it out to all her follows so the party gets jumping. Of course hot men were ready to rub some ladies down. (Wait if this for sex toys, people need to realize there will be not hot men, just the toy-sadly.) Kandi enjoyed it when five men were rubbing her down in every possible spot, well most locations.
The other ladies arrive. Marlo and Nene were in the corner acting stuck up. Cynthia said the party had too many scrubs. Nene was so over this and wanted to go, but Nene was both Marlo's and Cynthia's ride. Queen Nene could care less. So even after they put up a fight, they leave with Nene.
Kim seems to be enjoying the event and calls Nene out for pretending she doesn't want a dildo-"maybe its because she a dick in her pants." I take it the two of them won't be reconciling their friendship?
Next up, the three part reunion.
Expect some yelling, some truth reveling, some name calling, and our favorite girls all together in one room.
Reach Reporter Tallie J here.