Entertainment News
Miley Cyrus And Lady Gaga: #PopSingersDontEat?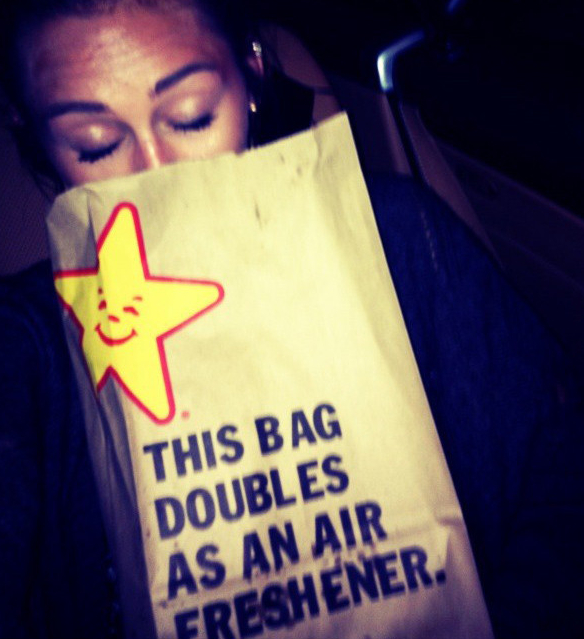 Two of today's biggest pop stars are under fire for controversial tweets that many believe send the wrong message to fans. On Wednesday Miley Cyrus tweeted a photo of herself sniffing a Carl's Jr. bag with the caption "I can't eat it. So I'm just gonna smell the sh******* out of it! My mouth is LITERALLY watering."
Fans and the media immediately believed the tweet was a warning sign that Cyrus was anorexic. She later responded to critics, tweeting, "For everyone calling me anorexic I have a gluten and lactose allergy. It's not about weight it's about health." Cyrus, who is known for her commitment to pilates exercises (not to mention spending $50,000 on a personal trainer), encouraged her fans to also pursue a healthy lifestyle and go gluten-free.
But more shocking was a tweet made by Lady Gaga earlier this week. "Just killed back to back spin classes. Eating a salad dreaming of a cheeseburger #PopSingersDontEat #IWasBornThisWay," tweeted the singer who is known for promoting self-expression and self-acceptance through her music.
While some read the hash tag as a joke, many of the singer's 22 million followers were offended. One fan, Aysha Falco, tweeted back, "Why would you even promote a message like that? Disgusting that you'd joke about such a serious illness."
The tweet was surprising to followers of Gaga, who has not only denounced dieting but also has also admitted to suffering with bulimia in the past. Defenders of Gaga argue that people are overreacting to a comment that was meant to be ironic, but many, including the National Eating Disorder Association, agree with Falco that this is an issue that shouldn't be joked about.
Gaga, who is taking a break from the media, has not commented on the controversy.
Reach staff reporter Megan Singson here