Food
Michael Voltaggio Brings Cutting Edge Cooking Style To Festival Of Books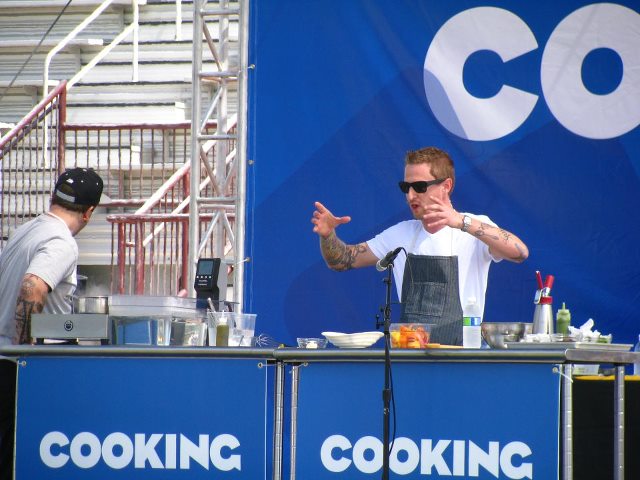 Those familiar with season six "Top Chef" winner Michael Voltaggio know the incredibly talented chef for being able to push the boundaries and execute them flawlessly with his signature flare.
Voltaggio by far is the most popular chef to win "Top Chef." Since winning, he hasn't slowed down and has only escalated in popularity.
In 2011 alone, Voltaggio opened his highly anticipated restaurant, Ink, and a sandwhich shop, ink.sack. If there was any doubt as to whether Voltaggio's restaurant Ink would be a success with his cutting edge cuisine and unique vision, they were all put to rest once GQ named it America's Best New Restaurant in their March 2012 issue.
At the L.A. Times Festival of Books, despite being in the heat and a very basic cooking stage set up, Voltaggio shined and made his cooking demonstration fun and charming. Voltaggio opted to demonstrate new dishes he'd been working on in his restaurant. He also talked about "Volt ink," his joint cookbook with his brother Bryan who was a fellow "Top Chef" contestant.
Voltaggio started off with a carrot dish, which he described as being a combination of cold, crunchy and refreshing. The freshness of the produce available at the farmer market is the inspiration of some of the newly incorporated menu items at Voltaggio's restaurant.
He shaved the carrots finely using a mandolin and emphasized that with this dish, he wanted to play on the ingredients and not take away from them. To dress the carrots, Voltaggio created a salsa verde and pea green sauce, which he lightly drizzled over the carrots as not to take away from them. Being the chef that he is, Voltaggio couldn't leave the demonstration at that. He gave his audience some flare by adding liquid nitrogen to a fish coconut dressing, giving the dish an ice rock quality, which added an overall crunchiness of the dish.
Voltaggio's other cooking demonstration featured a dish called an egg yolk gnocchi with accents of spring, which he described as being a dish he came upon by accident. The idea behind the gnocchi is it being rich and airy so when eaten, you experience the sensation of a perfectly poached egg. He paired the dish with a coconut, ramp butter, tomato sauce and added a mushroom chicharron that he makes himself to add texture.
Watching Voltaggio work reveals many things about the chef. He's incredibly talented and loves what he does. In addition, the "Top Chef" winner is incredibly likeable. There is no doubt Voltaggio has great success in his future. He's incredibly charismatic and had the audience laughing from beginning to end.
Reach writer Phoebe Abraham here
For complete coverage of the Los Angeles Times Festival Of Books, click here