Politics
Tuesday's GOP Primaries: Over Before They Began For Party Insiders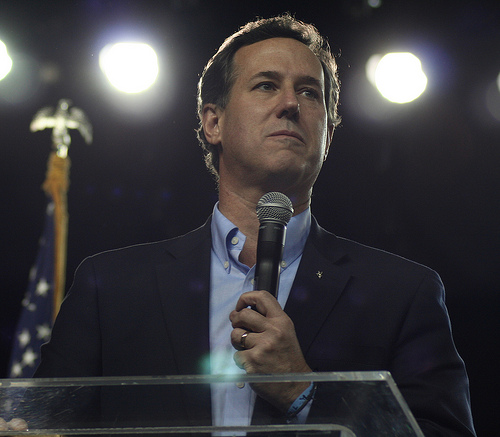 Already, Tuesday's primaries in Wisconsin, Washington, D.C., and Maryland seem to carry with them an overwhelming tone of "so what?" Mitt Romney has already been projected as the clear winner, odds that have been practically set in stone for the last 10 days.
David Rothschild of Yahoo News' The Signal wrote Monday:
We are very confident that he will win Wisconsin, where his odds currently sit at 96.2 percent. Rick Santorum is just 4.3 percent likely to pull off an upset victory. Romney is also almost certain to carry Maryland.

What the polls don't tell you is that contrary to his dismal numbers in mid-March, he's always had at least moderately favorable odds in the state. We should remember, however, that markets use polling data just like everyone else, and aggregate that information with other signals to produce their odds. The big jump we see in the odds correlates with the release of positive poll numbers for Romney.
But Wisconsin has a lot on its plate—according to some experts, the GOP race is the least of its concerns.
Instead, Wisconsin is dominated by Gov. Scott Walker's recall battle and the ongoing legal fight over the controversial labor law that precipitated it.

"Frankly, the presidential primary is being well overshadowed by the recall election," Wisconsin GOP strategist Mark Graul told TPM. "People are just so hyper-focused on this recall that the presidential election is really just a distant second in most activists' and voters' minds, not just on my side of the aisle but with Democrats as well."
Earlier this week, Wisconsin certified a petition campaign to recall Gov. Walker, and Democrats gathered signatures to force an election now set for June 5. The in-state tension has been boiling since the governor's attack on collective bargaining rights last year, setting Republicans up against Dems and labor activists.
And that's not to mention the homemade bomb planted at a Planned Parenthood clinic in Grand Chute, about 30 miles southwest of Green Bay. The FBI is investigating alongside the town's police force. Walker was also behind efforts to defund Planned Parenthood and impose new restrictions on abortion coverage.
So Romney may have to forgive the state for overlooking a victory Tuesday that could plant him firmly in what TPM's Benjy Sarlin and Evan McMorris-Santoro are calling "presumptive nominee territory."
As many GOP voters consider Tuesday's primaries "all but over" in predicting wins for Romney, Rick Santorum looks to next month.
Politico reported the candidate expects to find more success in the conservative states holding their contests in May.
From Politico:
"We had a great March. We won a lot of states in March… It's been a great opportunity. Yet we knew April would be a very tough month for us," the former Pennsylvania senator told CNN's Piers Morgan Monday evening from Wisconsin. "This is a series of states — you know, Rhode Island, New York and Connecticut and D.C. and Maryland — these are not conservative states."

The GOP presidential hopeful said that Wisconsin "is one that we think we can run well in" Tuesday and the campaign is banking on a win in Pennsylvania at the end of April.

"But we also know that the month of May is rich with delegates and are strong states for us," Santorum said, where hopes to rack up states like Texas, Arkansas, Kentucky, and North Carolina. "Those are the states we know we can get this back, right back to where it is right now, which is a lot closer than what Mitt Romney and the pundits are spinning."

He added: "This is a very close race and by the end of May, we expect this race to be very close to even."
General consensus thus far, both within the party and beyond, suggest otherwise.