Books
L.A Times Festival Of Books: An Interview With Former "Blossom" Star Mayim Bialik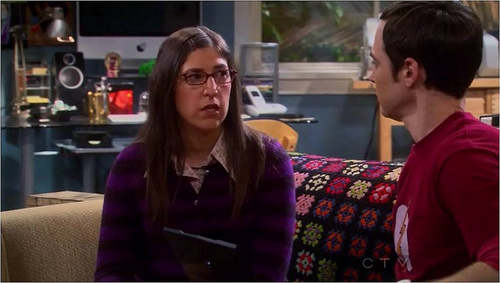 Have you ever seen those front facing baby slings where the baby has all fours dangling about like he's about to give you a big bear hug?
It hardly seems like a natural position for a baby to be carried around, right? Well, former "Blossom" star turned author Mayim Bialik doesn't think so either.
In her new book, "Beyond the Sling: A Real-Life Guide to Raising Confident, Loving Children the Attachment Parenting Way," Bialik challenges the modern day parenting culture by questioning the common practices that new parents abide by, whether it was told to them by their friends, family members or even doctors. She counters just about every traditional parenting method you can think of: birth, breast feeding, sleeping habits and more.
Before Bialik became an author, she was best known for her lead role in the 90s television series "Blossom." After the show ended in 1995, Bialik went on to get a B.S in Neuroscience and Hebrew and Jewish studies as well as a Ph.D in Neuroscience at UCLA.
During her college years, she met and married her husband Michael Stone and they now have two young sons. Currently, she is a series regular on "The Big Bang Theory."
However, her main priority in life is still motherhood and now she wants all parents to be set free from this notion that they need to "learn" how to be good parents. She believes, in fact, that we were all innately created to be great parents, but Western society has invalidated people with "how to books" and professional opinions that are so generalized that it's impossible for anyone to feel confident in their own parenting style.
And even though Bialik's book might present itself only to expectant parents, it still proves to be an interesting read about why society functions the way it does and how, as Bialik said, these parenting fallacies form.
In an interview with Bialik, she goes into more detail about her book and what lies ahead for her this summer.
What do you hope people who aren't parents will take away from your book?
I think because my tendency and background is in neuroscience, [my interest] was to present what I think should be everyone's human right to know about, which is how the human body works, specifically during pregnancy. I talk a little bit more about labor and about breast feeding, but the concept of human bonding I think should be taught to everyone, whether they decide to be parents or not. This is the basis of how adult relationships are formed is how children are treated when they're very, very small. A lot of my interest was flushing that out for people, no matter their parenting style or their stage of life.
In your book you talk a lot about how being a parent is the most innate thing in the world, yet society tries to make us believe we're not naturally good parents. Why do you think that's so?
Without sounding like a crazy paranoid liberal, there's a huge profit to be made from women, especially, being told they need a lot of help. Whether it's help [with pregnancy] or help in giving birth, which is not a medical emergency. Even things like caring for a newborn is a 9.8 billion business. Babies need very, very little, especially for the first year of their life. So there's a tremendous amount of profit that is made from what I would call conventional parenting styles: things like expensive strollers, layettes and even expensive and fancy baby carriers. Babies don't need a lot of contraptions. They also don't need schedules. There's nothing bizarre or foreign about learning to be a parent except that you've never done it before, but I absolutely believe that we are programmed for it and neuro-biologically we are.
What kind of feedback have you gotten from readers?
I hear amazing stories of women who had to lock themselves in a room when they were doing "cry out" with their baby because they physically felt so drawn to pick the baby up when it was crying and there's a reason for that. A baby's cry makes you want to pick it up because hearing your child suffering is a terrible thing. That's one of the amazing conversations I've had with women who have said I didn't know it was okay to go against my doctor's advice to cry it out. That's really what I argue for. No matter your style of parenting it's really about us being empowered as parents and not needing someone else to tell us what to do with our body and when to have a baby because it works for their vacation schedule.
[I've gotten] really amazing feedback even from people who don't agree. If I could have decided before what I wanted to happen from this book I think that would definitely be one of the things: for people to understand that they are the best expert on their kids. Not some doctor, not any book on parenting.
Right at the start of your book, you're adament that this is not a parenting book, yet it kind of is. How did you tackle writing a non-parenting, parenting book?
I think it's more of a memoir. To me, a parenting book is written by either an expert in parenting like a pediatrician or a family therapist or somebody who thinks they've figured it out and I think I say very early in the book [that] I've only figured it out for my kids up until now. That's really what I'm the expert in. One thing I'm trained in is being a specialist in the hormones of human attachment so I definitely write to that in the first chapters of the book, but the rest of the book honestly is really more [of] what it looks like in our house. I really try to [emphasize] in every chapter [that] this may not work for you, but here are some of the principles that you can apply even if you don't want your kids in your bed.
What's next for you?
I already put in proposal for a second book. I'm actually the spokesperson for Texas Instruments, the graphing calculator people, so I get to do a lot of fun stuff with teachers and students. I have a bunch of speaking engagements with them throughout the summer. I've had a Texas Instrument calculator since I was fifteen and my husband and I met at college, each holding a Texas Instrument calculator. I like to be with my boys a lot, so that's sort of the plan for hiatus.
Be sure to catch Bialik at the Los Angeles Times Festival of Books this Sunday on the L.A Times Stage.
Reach the Books Editor here or follow her on Twitter
RELATED CONTENT: What To Expect: The L.A Times Festival Of Books 2012, Festival Of Books Brings Celebrity Authors Together