Investigative Reports
L.A. Riots: Rebuild L.A.'s Ambitious Attempts To Revive The City
This story is part of a special Neon Tommy series revisiting the upheaval 20 years ago surrounding the Rodney King trial. See more of our anniversary coverage here.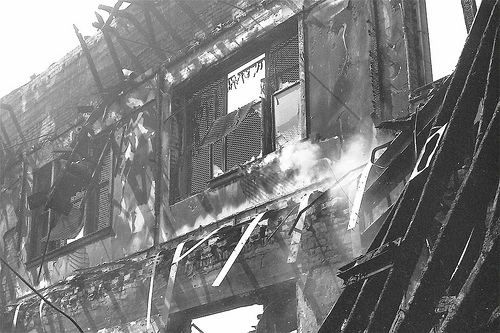 When Bernard Kinsey signed on as co-chairman of Rebuild Los Angeles, the organization seemed like the city's best hope for restoration after rioting sparked by the Rodney King verdict.
Kinsey joined former Major League Baseball Commissioner Peter Ueberroth to head the program targeting economic development in South Central L.A., an area that had been ravaged by looting and destruction in April 1992. Fifty-four people were killed, another 2,000 injured by riots in response to the news that four police officers who had brutally beaten Rodney King a year before were acquitted. More than 3,000 businesses were damaged, devastating the 67-square-mile community and its 2.3 million residents.
The riots shook the city to its core, and left L.A. in desperate need of intervention. That's where Kinsey and Co. came in.
"Our simple premise when we were formed back in 1992, literally while the city was still smoldering," the philanthropist said during a recent phone interview, "was we wanted to involve the community, the government, and the thing that had been missing in every riot that's happened from the '60s forward—businesses."
But the program's approach drew mixed reviews. Critics chalked up the organization's demise to several pitfalls—that it was lead by the wrong people, fizzled out too early to bring real reform or overreached beyond realistic expectations. A daunting task on its own, attracting investors to the underserved community turned out to be the least challenging part of Rebuild L.A.'s efforts.
Early on, the group had an easy relationship with city leadership. L.A.'s department of building and safety planning allowed Kinsey and Ueberroth to open a Rebuild L.A. window where businesses could expedite the permit application process. But that amicability could simply have been because city government was in its own state of crisis.
"During 1992, there was really nobody running Los Angeles," Kinsey said. Then-Mayor Tom Bradley had announced he would not seek reelection, and both the Board of Supervisors and City Council were in flux. "Part of what we did with Rebuild L.A. was fill that vacuum," Kinsey said. "And we filled it quite well."
According to Kinsey, Rebuild L.A. renovated 63 percent of those businesses within two years of its inception. During his stint as chairman between 1992 and '94, Kinsey saw the program make good on $380 million of a pledged $500 million in investments from corporations.
Before they could convince investors the South Central area was a worthwhile business venture, Rebuild L.A. needed to get the lay of the land. Ueberroth enlisted the help of strategy management consulting firm McKinsey & Company to survey the riot area.
"They found that three things were oversupplied in the black community: funeral homes, liquor stores and gun stores," Kinsey said. "All of the things that people would consider services they would want—drug stores, book stores, libraries, parks, grocery stores particularly—were underserved by a magnitude of 10."
Rebuild L.A. set out to develop those needed services, creating a hiring boom in the community. They pitched to chain stores like Vons and Ralphs, dangling the African American consumer market and those expedited building permits as bait.
"If you were an RLA client like Vons—and later many, many people were our clients—you would go to the head of the line," Kinsey said. Instead of waiting three years to start building, businesses could receive permits in as little as 13 months. "If you had our endorsement, the city was willing to work with you and help you get a building permit a lot quicker."
But that endorsement came only if business owners agreed to a few conditions.
"They would do two things," Kinsey said. "They would one, hire within three miles of the area they were putting the store in, and two, they would have a Latino or African American or Korean manager in the stores. And they did it."
Rebuild's early successes
Within its first six months, Rebuild L.A. had tapped the city's grocer giants to build more than 30 stores in South L.A. "We set it up to run it like a business and we ran it like a business."
Rebuild L.A. was effective at first, but short-lived. By 1995, it had downsized to a glorified small business loan firm. Even the Rev. Cecil Murray, former pastor for First African Methodist Episcopal Church and prominent community figure who refers to Kinsey as his "homeboy," had critical words for the initiative.
"Rebuild L.A. was a fine concept," Murray said during a recent interview. "I think it did not last long enough so that it could go deep enough to solve the problems. All of these things would have had to take at least 30 years, a generation, and not three years. We would need to find a Rebuild L.A. that is in it for the long haul."
Kinsey remains unyielding in his defense of Rebuild L.A. 20 years on, but does acknowledge the program was flawed in its timetable.
"We didn't want to be a bureaucratic agency that's around 30 years from now," he said. "We wanted to do this in five years. And frankly, now as I look back on it, we probably should have done it in 10 years rather than five. But we wanted to show people that we were not there to supplant the supervisors, the county, the mayor and all these other agencies."
As Kinsey pointed out though, those offices were essentially vacant when the organization first started. Once city leadership found its footing, the program's dynamic with local government shifted out of Rebuild L.A.'s favor. "Then people that really had no real interest in the community anymore, had more interest in power grabbing, tried to make it look like we didn't know what we were doing. They didn't like it because they couldn't tell us what to do."
But that's exactly what city officials did. Kinsey said Rebuild L.A. was forced to diversify its leadership model, a demand that quickly snowballed. Soon, the agency was headed by five co-chairs and a board 94-members strong. "Those board meetings were just a farce. They decided that they wanted to have a Latino; they wanted a female, wanted to have an Asian. Before you know it, we had five people making the decisions where before it was just Peter and I. And it just wasn't practical."
With so many voices involved, the mission of Rebuild L.A. became blurred, taking on too many social issues to be fully effective in dealing with any one of them. Board members pushed for health care and education reform, ignoring Kinsey and Ueberroth's objections that these weren't the point of the agency.
Their authority was further diminished with a demand by the City Council for regular reports, "like we were some subversive organization," and a rocky relationship with new Mayor Richard Riordan, who was elected in 1993. "When he got to be mayor," Kinsey said, "what he wanted to do was to have, quote, this private agency that was wielding, quote, all of the power and took up all of the L.A. Times. He wanted that power back."
Kinsey watched his control over Rebuild L.A. dwindle until finally, "I said, 'I don't need this. This is not what I signed up for.' So I left."
His departure in early 1994 came just a few months after Ueberroth's. Without its instrumental frontmen, the program rapidly began to fade. "From '94 to '97," Kinsey said, "there was nothing that happened. Rebuild L.A. became a study group. That's the best I can say."
Kinsey maintained without the power struggle, Rebuild L.A. might have been much more effective in reviving the community, even within its short five-year window. "I think having this public-private partnership is a pretty unique concept. But you gotta get it out of the bureaucratic confines of the city."
Mixed reviews for Kinsey
Nearly 20 years later, he still speaks highly of the program.
"The New York Times said it right. It said that Rebuild L.A. was the most effective riot response in the history of this country—period," Kinsey said. "And no other organization's even comes close to providing the kind of tangible and real results Rebuild L.A. did."
That praise from The New York Times Kinsey referenced, however, actually came from the former co-chair himself. A January 1994 article announced Kinsey's decision to step down as co-chair, and served as an early assessment of the program. In it, reporter Calvin Sims wrote, "Asked if Rebuild L. A. had been successful so far, Mr. Kinsey said the organization had been the most effective post-riot effort in the nation's history."
Despite Kinsey's personal endorsement, the organization drew significant criticism for failing to be the cure-all many had hoped it would become. Economist Jack Kyser, quoted in a later Times piece published in May 1994, said the program was doomed from the start. "There were so many competing groups that wanted Rebuild L.A. to wave a magic wand and solve all their problems," Kyser said. 'The expectations were too grand for anyone to meet.'"
Mark Ridley-Thomas, then a City Council member serving on Rebuild L.A.'s board, blamed much of the promising program's failure on one figurehead in particular.
Asked for comment on Kinsey's retirement, Ridley-Thomas said, "In all candor, it's very difficult to give Mr. Kinsey high marks. I view his being there as more of a liability than an asset."
Ridley-Thomas, now a supervisor for L.A. County, still stands by his critique of both the program and its co-chairman. "There was a time of high tension and impatience and Rebuild L.A. had a very difficult time getting its focus. It meant that it was not as effective as many of us would have hoped," he said in a recent interview with Neon Tommy. "I don't mean to suggest that it did nothing, but it certainly didn't rise to the occasion."
Internal battles aside, a number of critics of the program seconded Kyser's point that Rebuild L.A.'s task was simply too great. Anthony Downs, a senior fellow at the Brookings Institution in 1994, said it would have been nearly impossible to get investments substantial enough to truly address an inner city's issues.
"You can't expect a few businessmen and a few residents to cope with those monumental problems on their own," Downs told the Times. "The job of an organization like Rebuild L.A. is probably impossible without some greater change in society."
Kinsey said the group was well aware L.A.'s problems at the time. "Remember, this city was in trouble," he said. "This city didn't know which way it was going to go." That chaos was further complicated by the politicking and power struggles inside the organization. "We had this tug-of-war, and the tension there was just extraordinary."
So, dropping his end of the rope, Kinsey moved on. The retired vice president of Xerox said he still had the luxury of not needing gainful employment. He could focus on other avenues to give back to his community.
Today, he and wife Shirley work to preserve national African American heritage through art and historical documents in the Kinsey Collection. The trove was most recently on display in the Smithsonian National Museum of American History in Washington, D.C. During its seven-month stay, the collection drew in an estimated 2.5 million visitors, Kinsey will proudly report.
"We've gone from one serious thing, to another serious thing, to another serious thing," he said. "In other words, I don't sit around. And the reason you don't hear me talk about looking back so much is 'cause I'm not a look-back kind of guy."
But Kinsey spent the bulk of an interview doing just that rather than addressing the city's problems left over the riots. Though prompted several times, he offered little concrete advice for tackling these issues.
Asked what he'd do differently if charged again with the insurmountable task of rebuilding L.A., Kinsey seemed only to wish the circumstances had been different 20 years ago.
"We had the right mission and the like," he said. "But this whole notion of trying to appease all these different groups really ended up being our downfall.
"It was just too much."
Editor-at-Large Tom Dotan contributed reporting to this story. Reach him here.
Reach Deputy News Editor Catherine Green here.
RELATED STORIES:
A Timeline Of Events Set Off By The Rodney King Beating
Rev. Cecil Murray Sees Progress In Inclusive Society
Challenges Still Ahead For Crenshaw Businesses