Film and TV
"How I Met Your Mother" Recap: Ted Looks Ahead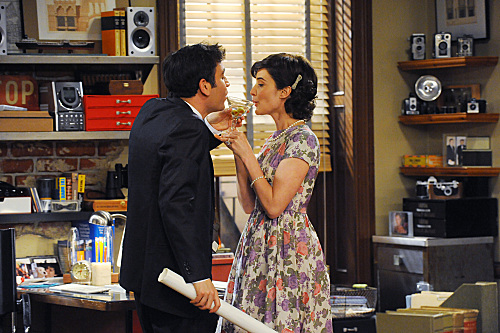 Three years from now, I think we will still be sitting around waiting to find out who Ted marries.
At the speed this show is going, we actually may never find out. Instead of spending the precious twenty something minutes a week the show has on progressing the story, this weeks episode of "How I Met Your Mother" spent a good chunk of that time on weird three years from now fantasies.
Ted and Marshall started a tradition in college in which they decided that they had to watch the "Star Wars" trilogy every three years. And every three years they sit down and imagine what their lives will be like the next time they watch the trilogy. We got to see every single one of their weird fantasies into the future in great, painstaking detail--all the way from 2003 to 2015.
Every single time, Marshall dreams about being married to Lily and having a baby on the way, Ted dreams of being a successful architect and having a perfect girlfriend like Robin, and Barney dreams of having a different girl every night. And every time, their reality is significantly worse than what they imagined.
The point of the entire episode is that Barney finally realizes that three years from now he doesn't want to be with a different girl, he still wants to be with Quinn. After getting into a fight about keeping her coffee mugs in the house because of his commitment issues, Barney runs back to her and tells her he's in it for the long haul (as he smashes all his old mugs for dramatic effect).
Oh and there is one more positive to this week's episode. We find out that three years from now, Ted is married and has a baby girl. That means there's less than three years until he meets his future wife and gets married! Hang in there viewers, we may just find out who she is after all.
Reach writer Surabhi Srivastava here