Los Angeles and Region
Graffiti Tracking System Saves Carson A Bundle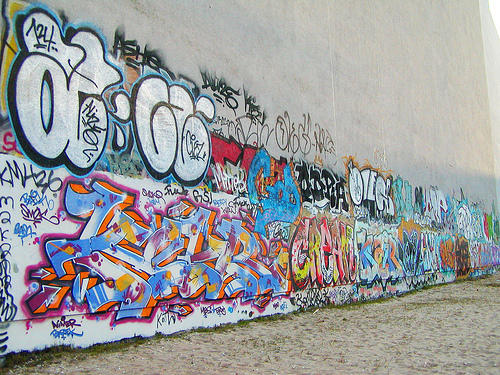 The city of Carson gambled on a Nebraska man's plan to "track" graffiti taggers using digital cameras and saw a dramatic decrease in the amount of graffiti.
Graffiti Tracking, founded by Timothy Kephart, uses GPS digital cameras to record where each act of vandalism occurs.
"A lot of cities were just painting over the graffiti as quickly as possible," Kephart said. "By doing that they were eliminating the fact that a crime had occurred, removing all evidence of this crime. So when we started photographing the graffiti that allowed us to be able to capture the information and then have a permanent record of that crime on file so we can better study and analyze it."
Law enforcement takes the images and loads them into the tracker, which then analyzes who's tagging where and with what frequency, said Carson Sheriff's Lt. Eddie Rivero. "This system allows teamwork for something that can be very difficult. The key is, you have a detective who gauges the data and figures out who the perpetrator is," leading to an increase in the arrests of taggers.
Carson initially hired Kephart in 2000 using grant money targeted for studying the city's graffiti problem, Councilman Mike Gipson said.
"He came to Carson and pitched his idea," Gipson said.
Two years later the system was implemented citywide. Kephart pointed to the most recent figures as proof the system was working.
"There were 17,000 incidents in 2009," he said, "and that has been lowered to 14,400 in 2011, an 18 percent reduction in the volume of graffiti."
Due to the success of the program, the City Council recently voted unanimously to extend its contract with Graffiti Tracker for an additional year. Mayor Pro Tem Julie Ruiz-Raber predicted the program will continue to "advance the effort of stopping graffiti."
While Graffiti Tracker has been implemented by several other cities, Carson was the first to commit to it, receiving statewide recognition, according to Gipson.
Because of its association with gangs, "graffiti is a crime that gives insecurity to a neighborhood and brings property value down," said Carson Sheriff's Deputy William Farrell. "If there are two cities next to each other, one has graffiti and the other doesn't, a shopper is going to choose the cleaner city."
The program, which costs Carson $19,200 yearly, is saving it more than half a million dollars in reduced costs in catching and prosecuting taggers as the incidents of vandalism drop, said Public Services General Manager Ray Cruz.
"We are making an investment to actually catch the vandal and have them pay back for the damage through their conviction," Cruz said.
In addition to saving Carson taxpayers money, Cruz said the program allows "us to catch the perpetrator without slowing down the removal process," with the graffiti removed as soon as Graffiti Trackers has logged the incident.
----------
Reach contributor Nuha Abujaber here.