National
Gingrich To Drop Out Of Race Next Week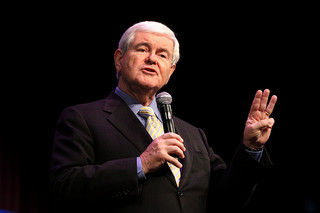 Newt Gingrich, after all but conceding the Republican nomination to Mitt Romney on Tuesday after a five-state beatdown, will officially drop out of the race next week, reports CNN.
After Romney's sweep, Gingrich said, "It's pretty clear Governor Romney is going to be the nominee. I think you have to at some point be honest with what's happening in the real world, as opposed to what you'd like to have happen."
However, Gingrich then said he would continue campaigning in North Carolina as "a citizen."
CNN reports that senior aides have said Gingrich will drop out next Tuesday. However, a National Journal reporter tweeted that the dropout date will be after Tuesday, "later in the week."
Gingrich leaves behind him a mixed legacy, and a campaign deep in debt, according to a CNN commentary.
NBC News reports that Gingrich "may well endorse Mitt Romney."
Thus far, despite a number of endorsements from important GOP leaders, Romney has not received an endorsement from rival Rick Santorum, who bowed out of the race on April 10.
Santorum is expected to support Romney, and could be waiting until closer to the convention in August to make it more effective.