Los Angeles
The Food Truck Evolution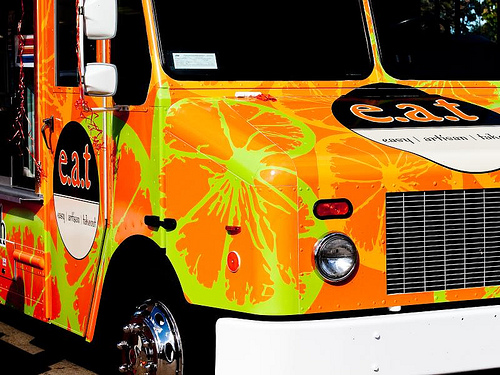 What started as a joke one night over a drink took a health care worker and
an artist in a direction they never expected—down the busy food truck road.
"We were tired of our jobs so we wanted to do something different," said
Nikole Markarian of the momentous night in 2008, when she and Roxana Javadi
lightheartedly decided to upend their careers. "We wanted to open a small
restaurant in downtown Los Angeles, but because of the recession and the start-
up fees it was almost impossible." Explained Javadi as she dips potatoes in sizzling
oil on Wednesday afternoon. Launching a food truck would involve a much smaller
investment.
"So we started putting recipes together. We would have friends over and
have sauce parties to see what works, and throw ideas, and from there things just
kept on rolling," added Javadi. Two years later their Fresh Fries food truck was up
and running.
While the food truck culture surged starting in 2006, its L.A. roots go back to
the 1950s and '60s. "Lonchera was the terms used--trucks that just show up, serving
food that was deemed low culture," said Garrett Snyder, contributing writer to Los
Angeles magazine, who has made food trucks one of his specialties. "Obviously with
L.A.'s population it was more oriented toward Mexican cuisine."
But food truck dining really took off with the arrival of one forward thinker,
Snyder said. "You can pinpoint the change to one truck that came on the scene in
2008," said Snyder. "Fine dining chef Roy Choi co-opened Kogi, a Korean short-rib-
barbecue-fusion tacos food truck, which now has more than 200 food trucks on the
streets of Los Angeles."
Before Kogi, most Angelenos had only glimpsed food trucks from afar, sitting
in a parking lot or next to a construction site. "People thought they would never eat
food out of the truck, but then they started seeing the quality of food coming out of
trucks and overnight people were going nuts for it," said Snyder.
Shaina Dellrocco is an employee of the Grilled Cheese Patrol truck parked on
mid-Wilshire during a weekday lunch hour. But she's standing in front of Bool BBQ
waiting for the Korean tacos she ordered. "They are the best, they are convenient
and they are everywhere," says Dellrocco of food trucks as she devours the
delectable looking tacos. As for patronizing her competitors? "It tends to happen;
you get bored of your own food and you want to try others."
"For a while the market reached a point of saturation," said Snyder, who
estimates it now costs $75,000 to start up a truck. "It was like gold rush. Anyone
could open a truck." Markarian and Javadi were part of that rush, even though it
took them a year to get approved by the health department. "It is a long process,"
said Javadi, "but it is worth it."
"It has become a legitimate business opportunity, which is ironic because in
2008 everyone thought Roy Choi was crazy," laughed Snyder.
On a weekday afternoon, as Javadi put together a $6 order called Stinky
Pinky--fries topped with grilled onions and Thousand Island dressing--Markarian
explained that "we offer 14 or 15 sauces depending on the day, and we make our
own curry ketchup and curry mayo everyday. My favorite on the menu is the Curry
Crazy, which includes curry mayo, curry ketchup and mango chutney." They also
serve dessert fries, including one version called the Sweet Tooth, which is sweet
potato fries with sweet cream sauce. While Fresh Fries is known for its crazy
combos, there are also plain French fries that range from natural cut to sweet potato
and curly fries priced at $3 for a mini and $4.50 for a regular.
The food truck explosion has not been without its troubles. What started
essentially as an underground experience has boomed into a pervasive presence
on L.A.'s streets. This movement has generated tension between the various food
trucks, meanwhile legislation is trying to lessen their proliferation.
Since Markarian and Javadi have taken some measures to avoid the
drama. "We no longer list our whole month on our website anymore," said
Javadi. "We have noticed that trucks that were not necessarily invited to an event
tend to show up," said Markarain, "and in food truck world that's called sharking."
The California government also appears to be stepping in to regulate food
trucks. Assemblyman William Monning, a Democrat from Carmel who is chairman
of the Assembly Health Committee, is seeking to bar food trucks and other street
vendors from doing business within 1,500 feet of schools in an effort to combat
obesity.
Business is also getting tougher on the street, said Snyder. "It is not a gold
rush anymore. It is not that there isn't gold anymore. Now it's such an established
thing, you have to have a good business model, have good food, have a price point
that is reasonable." Markarian agreed. "There was a time when there was a new
truck every week."
Snyder views the food truck business as a point of entry into starting a
restaurant. "Coolhaus is a truck that started its own ice cream shop," said Snyder.
"Flying Pig Café started off as a truck as well."
Markarian and Javadi seem to be on that track. "If and when we open
a place in L.A., people know who we are since we already come to them," said
Markarian "We are hoping that eventually they will come to us."
The food truck phenomenon continues to evolve, and it is now a novelty item
at private events. "We attend bar mitzvahs and weddings all the time," said Javadi.
"Food trucks are not going anywhere," concluded Snyder.