Science+Tech
Electric Vehicles Charge Up Consumer Behavior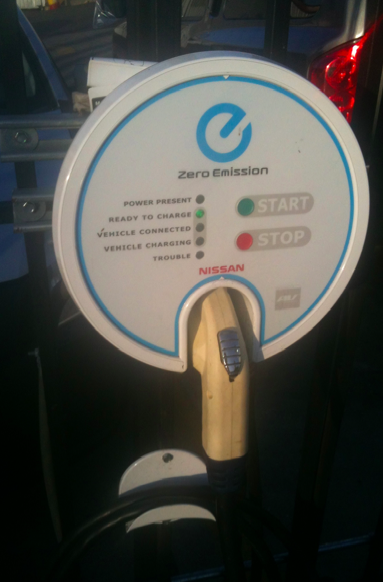 On any given day, Tricia Wernle piles her two sons into her new Nissan Leaf and heads off to complete the first item on her to-do list: grocery shopping. The Phoenix, Ariz., mother pulls into the local Costco, plugs in her car to a special charger in the parking lot, and lets the electric vehicle juice up while she shops for food.
Routines like Wernle's are becoming more common for electric-vehicle owners as charging stations are popping up across the country. Los Angeles County currently has 187 electric-vehicle charging locations, with 436 EV chargers, according to EV Charger News- an online directory for locating charging stations.
But as electric charging stations proliferate, they are prompting what could become a profound change in consumer behavior. Many of the new stations in Los Angeles can be found at places like the Costco in Los Feliz, the Westfield Century City Mall, the Westside Pavilion Mall and Dodger Stadium.
Depending on the vehicle, it can take many hours to receive a full charge. For places like malls, shopping centers, and grocery stores, it is a way to keep customers in their stores longer, increasing the potential for more purchases and in turn, more revenue.
However, the pace of change is hampered by the slow adoption of electric vehicles. As of December 2011, there were just over 35,000 Nissan Leafs and Chevrolet Volts on the road-- only 1 percent of the nearly 245,000,000 vehicles in the U.S.
But new regulations may cause this number to grow more rapidly. In January, the California Air Resources Board made some changes in favor of drivers who go electric. Any car that is 100 percent battery-electric receives a white Clean Air Vehicle Sticker, which allows the driver to use the carpool lane at all times regardless of the number of passengers in the car. The Air Resources Board also passed new regulations that call on the auto industry to dramatically reduce the amount of emissions produced by cars in the state by 2025; such measures are expected to promote a sharp increase in the number of electric vehicles.
Many corporations are also aiming to become more electric-friendly. The chain-store and pharmacy Walgreens has plans to build 800 charging stations at its locations around the country, according to the company's website.
Topanga Beach in Malibu and the Santa Monica Pier in Santa Monica have electric charging stations because they are generally places where visitors may spend extended periods of time.
Senior Vice President of the Dodgers Howard Sunkin said that installing chargers in the Dodger Stadium parking lot was an obvious choice. "Dodger Stadium visitors appreciate having a charging station at the stadium so they can plug in when they get there," Sunkin said. "Then once they get ready to leave the charging station they need not worry about powering up again."
Electric vehicles may also cause affect consumer behavior at gas stations, particularly the stores attached to gas stations whose convenience attract customers while their cars are being fueled.
According to a study by Harbor Communications on convenience store decisions, approximately two-thirds of consumers in the U.S. go to convenience stores at least once a week. The majority of them go on the way to or from work, or when they need to fill up their tanks. Owners of electric cars who charge at home will more than likely stop frequenting convenience stores as often, causing a shift in consumer behavior.
"I guess the more people drive electric cars, the fewer the people who will come to our store to buy things," said Pat Stilson, an attendant at a Shell gas station. "It could definitely mess with our sales."
One of the most popular electric vehicle models is the Nissan Leaf. The Leaf, or "Leading, Environmentally Friendly, Affordable, Family car," is a four-door hatchback with a strictly electric motor. According to Steve Bryson, a Leaf specialist at the Nissan of Downtown L.A., many people are ready to ditch their gas-guzzlers.
"There's a lot of excitement around it right now," Bryson said. "You know, some of the early adopters were really ready. They ordered theirs years in advance."
Nissan of Downtown L.A. has only sold 40 Leafs so far and 27,000 nationwide. Nissan has only built 115,000-- a fraction of its total vehicle sales in the country. But some of the biggest selling points are the many perks that come with driving a zero-emissions vehicle in southern California.
Buyers can take advantage of incentives such as a $7,500 federal rebate for all electric-vehicle owners and a $5,000 rebate for owners in the state of California. That brings the Leaf's retail price to about $20,000. In comparison, the Nissan Versa, a similar four-door hatchback vehicle, sells for $19,270.
But it is the cost of gas that makes the Leaf even more appealing.
Many buyers are attracted to the thought of never worrying about the unpredictable price of gasoline. The cost of electricity is about two cents per mile. The Leaf can go about 100 miles per charge. Essentially, it costs only two dollars to get a full charge.
The Versa gets about 30 miles per gallon in its 10.8-gallon tank. With gas prices at approximately $4 a gallon, filling up the Versa's tank costs about $43 each trip to the gas station. The $2 for 100 miles deal is a striking difference to $43 for 300 miles.
According to a study by the Center for Entrepreneurship and Technology at the University of California, Berkeley, by 2020 gas prices will remain at just over $4 per gallon. By 2017, electric vehicles will be 1 to 7 cents cheaper to operate per mile than gasoline-powered cars.
Between the perks and the price, many drivers are considering the switch to electric. Reed Semcken, a student, is taking the Nissan Leaf into consideration once his current lease on his Toyota Camry ends in April.
"I never really considered buying [an electric car] before," Semcken said. "It just never came to my mind until I realized how much I could save on gas."
Potential customers and electric car dealerships alike are on board with the idea.
"The more places that have charging stations, the more likely I would be to buy one," Semcken said. "It would be really convenient to go to a grocery store for like an hour and charge my car at the same time. Kill two birds with one stone kind of thing."