Film and TV
"Dancing With The Stars" Week 3 Results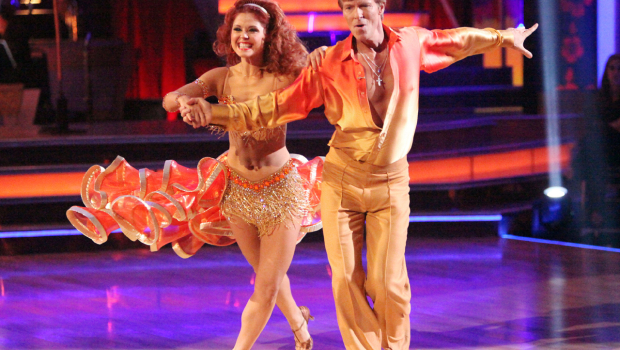 This week's results show started off on a soulful note with Seal singing "Lean on Me" from his new album. I'll be honest. The ballroom dancing totally didn't match. It's just not really a ballroom dancing kind of song—but he sounded great, especially the harmonies!
Len starts right off saying that no one deserves to go home tonight. It was definitely a strong week for everyone. I particularly loved "Material World" and of course, Gavin and Karina's dance was a personal favorite. And is there anyone out there who didn't tear up when Katherine and Mark danced?
Katherine and Mark are saved almost immediately, as are Maria and Derek. Both of those are kind of shoe-ins, though, wouldn't you say?
Gavin and Karina are in jeopardy once again, but Roshon makes it through no problem.
After the commercial break, William says that he's nervous for the jive. And my heart flutters.
Anna and Jonathon dance together to celebrate their friend Julia's life. She has been diagnosed with stage four lung cancer. Their performance was really beautiful, and extremely heartfelt. You can definitely see that they're married in the way that they dance—they match each other stylistically extremely well.
The next three couples whose fates are revealed are Gladys Knight, Jaleel White and Hot Stuff William Levy. Ummm, can we have him do more Latin dancing please? William and Cheryl are the first to be invited back for next week. Gladys and Tristan are put on the chopping block, and Jaleel and Kim are safe.
After that, the Macy's Stars of Dance perform, and they are sharp! I love the tuxedo jackets in shades of grey. It's pretty great all around
Rascal Flatts performs, and even has the dancers singing. Come on girl, major faux pas! I really like how the choreography for this dance matches with the song, though. I think they did a nice job correlating lifts and lyrics.
Donald is safe for next week, as are Melissa and Max. Jack ends up being in jeopardy. Jack, Gladys, and Gavin are the three dancers left in jeopardy.
The first person to be named safe is Gladys, leaving Jack and Gavin. I'll be straight guys—I'm pulling for Gavin. He's such a sweetie.
Jack and Anna are eliminated. He seems like a nice guy and he dances well, so I am sad to see him go. I definitely feel like there are quite a few talented dancers this season. Any Jack fans out there? What did you guys think of the elimination?
Reach writer Anita Dukart here