Science
Coping With An Anthrax Attack: What Would A City Do?
How would a metropolitan city deal with a large-scale anthrax attack?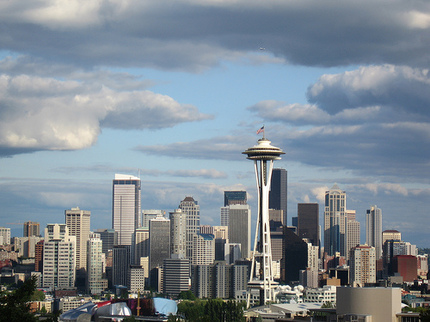 The investigation following the 2001 anthrax attacks in the US is referred to by the FBI as "one of the largest and most complex in the history of law enforcement." One week after the grisly attacks on 9/11, letters containing anthrax spores reached the offices of two U.S. senators and several news media offices. Besides the subsequent fear—understandable considering the nation saw itself at war—the attacks claimed lives. At least 22 people were infected. Five died from inhaling anthrax.
Could it happen again? And is a city, like Seattle, prepared for such a calamity—especially if an attack occurs on a larger scale? While culturing large quantities of anthrax spores is complicated, many nations have the capacity for doing so. That makes it a feared biological weapon.
Using Seattle as a focal point, University of Southern California researchers at the Center for Risk and Economic Analysis of Terrorism Events (CREATE) assessed the some of the consequences of a large-scale anthrax attack. Various visual scenarios examined psychological and economic impacts of hundreds of Seattle residents who participated in the study. The project, funded by the Department of Homeland Security, focused on perceptions of risk, awareness of individuals' health, and livelihood objectives following the uncertainty of a terror attack in a situation where an anthrax attack claims the lives of 50,000 in a metropolitan city. It examines what government can do to make a difference in terms of whether people move back or pursue their lives in a different location following such an attack.
"The way we did this is by using the Department of Homeland Security's national planning scenarios of an anthrax attack," said Heather Rosoff, a post doctoral research associate at CREATE. "What we did is we took the language of the scenario and developed it further into short videos segments starting with the initial attack and extending out over a two year period."
The video segments emulate real news to survey research participants' responses to how they would react.
"This is a hypothetical situation, but surprises do happen and we need to be prepared for them," said Adam Rose, who assessed some major economic impacts of the disaster.
Researchers found that an anthrax attack on a major city would have obvious immediate consequences and perhaps not-so-obvious longer-term ramifications. A sophisticated anthrax attack would cause death and injury, contamination of buildings, and a declining economy. Property values in the affected area would plummet—and so would those for surrounding areas.
"An anthrax attack like this could have a devastating impact on the real estate market," said Rose. "It would really cause a major decline in property values." The harm to real estate is not exclusive to the contaminated areas, but would likely affect the neighboring zone and even the suburbs farther out.
Just as in the aftermath of the Katrina disaster, following an anthrax attack on a metropolitan city, a significant number of residents impacted by sharply declining residential real estate prices and business investments would leave. Underwater mortgage levels would increase by $15 billion, and the number of foreclosures could reach 70,000, according to Rose.
Overtime, some might leave due to the stigma of living in a city impacted so negatively by a disaster.
"Once they make a decision to move elsewhere, most residents would leave quickly," said Richard John, the lead researcher on the project. According to John, the number of those who would leave after such a disaster would be roughly 20 percent of the population—a number similar to the portion of residents who fled New Orleans after Hurricane Katrina. For Seattle, this number is roughly estimated as 300,000 people. More than 200,000 residents, moreover, would be affected by foreclosures, which would have an enormous effect of the economy.
But most some would stay, according to John, whether because the city is home or making a trade-off between risk and lower rent prices.
The study found some intervention would be useful to help people get back on their feet. These interventions could include mortgage forgiveness and low interest loans to help to mitigate the negative economic impacts of such an attack, according to Rose.
"You don't want to leave a black hole in a vibrant city," said Rose.
Yet too much intervention could, in fact, induce more fear in civilians because of the perceptions involved with intervention.
"We found the more it was suggested the government would implement certain policies, the more afraid residents were," said John.
When more policies were proposed in the study, it made research participants feel that the city would never be normal again and that their health was continuously at risk. Some participants expressed a perception that intervention could mean the government is "propping up" an economy in the wake of an attack.
"This is one of the dilemmas of large-scale public policy: Do we let big companies or even cities fail, or is government intervention warranted for the greater good of the country?" said Rose.
Ultimately, the recommendations in the project are useful to policy makers in managing the response and recovery process after an attack. Being able to respond to the unthinkable helps policymakers to minimize fear and longer-term devastation to a metropolitan city.
"We're hoping there will be a second part of the study, so that we can analyze both people's perceptions and relative economic effectiveness of interventions," said Rose.