Los Angeles and Region
For Carousel Residents, The Ride Seems To Never End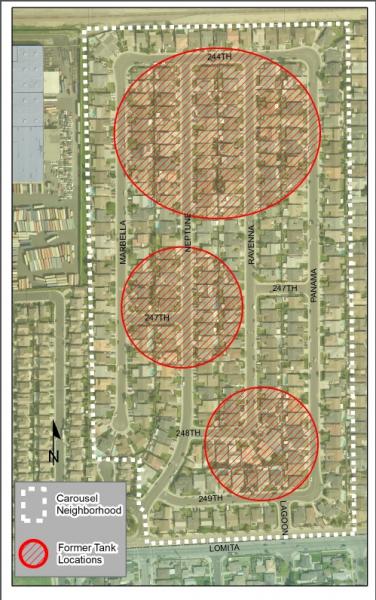 Barbara Post was sitting in her living room one morning last week when a group of workmen swarmed her Carson neighborhood with backhoes, track-mounted excavators and front-end loaders. They began drilling a 25-foot deep hole in her neighbors' front yard.
"It was the surprise of our lives," Post, 76, recalled.
The workmen even had to drill through concrete slab underground, causing intense reverberations in neighboring houses.
"We're in hell," Post said of living in the virtual construction zone.
The ruckus was supposed to be for her benefit, however. The 25-foot deep hole was part of a pilot test work plan to cleanup the polluted Carousel neighborhood, according to the Los Angeles Regional Water Quality Control Board.
Holes were drilled to examine soil stability and explore the feasibility of removing contaminated soil and concrete slab beneath homes. The soil needed to be removed due to elevated levels of benzene and methane in the area—chemicals considered to be carcinogens by the Department of Health and Human Services.
Seeing her quiet neighborhood of 35 years turn into an industrial cleanup zone has not been easy for Post who is also the Carousel Homeowners Association president.
"It's been hard," Post said. "It's really hard."
Soil, groundwater and air samples have been collected on a regular basis since the discovery of the toxins. But testing has often required residents to leave their homes for up to four days at a time. Having two dogs and a cat especially complicates hotel stays for Post.
Apart from the physical upheaval, Post said having to allow workers inside her home-- where they search under beds and inside cabinets-- has compromised her sense of personal privacy.
"Nobody knows how much of a burden it is until you go through it," Post said.
The disruption is the latest event in a four-year saga of the Carousel neighborhood in Carson. According to the Water Quality Board, the pollution has been linked to the petrochemical storage facility that Shell Oil Co. operated on the land until 1966.
A developer, the now defunct Barclay Hollander Corp., bought the land and by 1970, had built 285 single-family homes on top of soil contaminated with crude oil. Pollution was discovered in 2008 when the Department of Toxic Substances Control discovered harmful chemicals while investigating a site nearby.
The Los Angeles Regional Water Quality Control Board is the lead organization in the investigation and has ordered Shell Oil Co. to cleanup the area. But many other parties, including the Department of Public Health, residents' lawyers and the city of Carson have also been involved.
Shell Oil Co. did not respond to requests for an interview. But Sam Unger, executive director for the Water Quality Control Board, said the testing-- however inconvenient-- is the first step in reviving the health of the neighborhood.
"This testing will provide a blueprint for cleanup and restoration of the neighborhood as soon as possible," Unger said.
While Unger looked to the future, others have been left to face the past. Sheri Rett Loadsman, planning officer for the city of Carson, said it has been difficult to assign responsibility five decades after the neighborhood was built.
"It's always tough when you have people who are sick," Rett Loadsman said. "But we have to be pragmatic about who we make pay."
Pinpointing blame has been difficult. The decision to develop the land for residential use was made by a development company which no longer exists. Shell Oil Co. sold the land at a time when the dangers of exposure to petrochemicals were unknown. And residents bought their homes without being told about the land's former use.
Many neighbors have complained of mysterious headaches, anemia and leukemia, according to Post. But without being able to tie a direct link between residents' illnesses and exposure to industrial and petroleum products, Rett Loadsman said there is little recourse for sick residents apart from the cleanup effort currently underway.
Many are fighting to change that. Two years ago, Carousel residents filed a lawsuit against Shell Oil Co. for the health hazards caused by its remnant chemicals. Last month, the Carson City Council voted to authorize lawyers in its own lawsuit against the oil giant, though paperwork has yet to be filed.
The testing Post witnessed last week was part of an interim remediation plan to establish the scope and severity of the pollution as well as available options. Testing has been conducted at the majority of homes, signaling an impending transition toward cleanup.
"We're all anxious to see what Shell proposes," Rett Loadsman said of the potential cleanup plan.
But for Post, waiting for her neighborhood cleanup litigation is not an option.
"Just get us out of here," she said.