Politics
Analysis: Romney Momentum Reaches Escape Velocity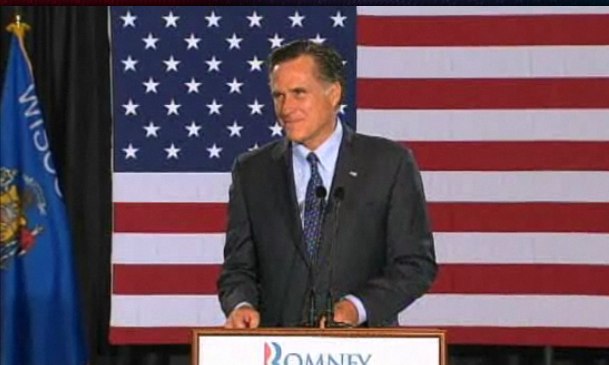 Another night of primary sweeps for Mitt Romney and the distance between him and the competitors grows near insurmountable.
His "should wins" of Wisconsin, Maryland, and Washington D.C. were all confident "did wins" and all of the recent momentum has finally given his candidacy escape velocity from the gravity field of an interminable primary.
The fact that Tuesday night was going to be a good one for Romney was such a forgone conclusion, that earlier in the day President Obama felt confident in slamming him publicly during a critique of Rep. Paul Ryan's budget proposal.
Romney, who earlier had referred to Ryan's lean budget, which lowers taxes and cuts mightily from social programs, as "marvelous," was pointed out specifically by the president.
"[it's a word] you don't often hear when it comes to describing a budget," Obama said. The president also labeled the budget as thinly veiled "social darwinism."
Up to this point the Obama team had been circumspect in large-scale attacks against Romney, especially while he was in the midst of the more grueling section of the primary.
Romney used his Tuesday night victory speech as another platform to call Obama a weak leader on the economy and a man unwilling to own up to his mistakes.
It was the kind of back and forth that we're destined to see in the general election, but since we are somehow mired in the present, there was still the contest at hand. Unofficially still unresolved.
Rick Santorum, doubled down on his resolve to remain in the race. Speaking from Pennsylvania, site of the next primary and his personal Little Big Horn, the former Senator declared the race far from over and ony at halftime.
"Pennsylvania and half the other people in this country have yet to be heard, and we're going to go out and campaign here and across this nation to make sure that their voices are heard in the next few months," Santorum said.
He was perhaps unaware that Republicans using football metaphors are actually secret code for Democratic talking points. And that the more relevant halftime is the halfway point Romney surpassed in reaching for the clinching 1144 delegates.
Pennsylvania is Santorum's home state and more recent polls showed him leading there, though it's by a diminishing margin. With Romney's team set to throw their weight around in the state it will another bruising stage in the race.
And if Santorum loses and another cascading set of endorsements is set to come in, the public pressure for him to concede will be crushing.
Not that unrealistic odds and the betterment of the party have been a deterrent to also-rans Newt Gingrich and Ron Paul. Both continue on, and poorly, after posting single-digit efforts in the race. Their campaign budgets are cut back and their rallies are sparesly attended; The death rattles must be deafening.
Lonely as it may be at the bottom for those two, there's still room for one more. The question is how soon. Pennsylvania can answer that on April 24.
---
Reach Tom Dotan here