Nation and World
Aimless Fishing Boat Sunk By Coast Guard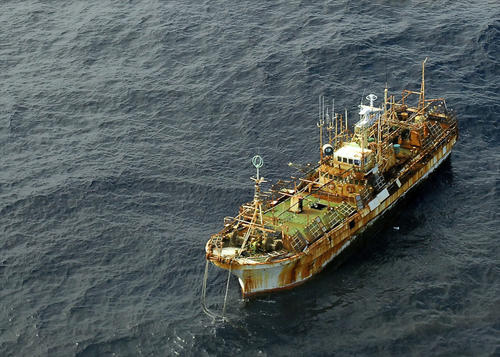 The long and aimless voyage of a rusting Japanese fishing boat concluded at the depths of the Gulf of Alaska Thursday.
Coast Guard guns riddled the 164-foot "Ryou-Un Maru," a squid-fishing boat that had strayed unhinged from its port in Hokkaido, Japan, following a catastrophic earthquake last March. The vacant vessel had drifted for a year across the Pacific Ocean, maintaining a pace of 1 mph in its final days.
Previously, a Canadian ship had claimed salvage rights to the ship but determined the boat was not worth towing following an inspection of the vessel.
The Coast Guard had decided to sink the "Ryou-Un Maru" after determining that the wayward ship posed a hazard to maritime traffic. Officials did not know how much fuel was in the boat's 2,000 gallon diesel tank, but nevertheless insisted on sinking the dead vessel. From ABC News:

The decision came after a review by The National Oceanic and Atmospheric Administration and the Environmental Protection Agency determined the best course of action would be to sink the ship with cannons and let any fuel evaporate in the open water.
Five million tons of scrap and debris had been swept into the Pacific Ocean by the tsunami, which killed thousands and provoked the worst nuclear crisis since Chernobyl. Remnants of the disaster first found their way to U.S. shores January, when several oyster buoys were spotted near Alaskan waters.