MLB
2012 NL Central Preview: Cardinals Look To Defend World Championship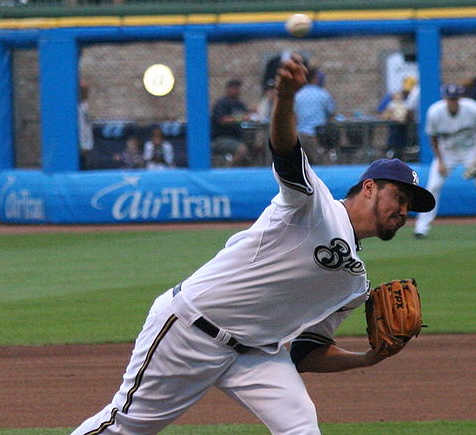 Here's the thing about preseason prediction columns: they're usually wrong.
Yeah, that's no great shock. Writers take a few educated guesses, often try to make a few surprise picks to stir things up, heat at 400 degrees for 20 minutes and serve.
More accurate than any human prediction for how teams will finish is PECOTA, a statistical system developed by Nate Sliver and now owned by Baseball Prospectus. In short, PECOTA takes in a player's stats from previous years, finds comparable players, and projects their numbers for the upcoming year. When you put those projected players together on a team, a projection for that team develops.
So I'll still make some predictions and things to look for on teams in the NL Central, but I'll leave the standings projections to tried-and-true PECOTA. Let's hit it. Links on the team names lead to their depth charts.
-
1. St. Louis Cardinals (PECOTA Projected Record: 91-71, 76 percent chance of making playoffs)
The Cards are defending World Champs, but not actually defending NL Central champs. Yes, Albert Pujols is gone. But a healthy version of starting pitcher Adam Wainwright gives St. Louis the division's best rotation.
Biggest Loss: 1B Albert Pujols - Obviously
Best Pickup: RF Carlos Beltran - He turns 35 later this month, but he demonstrated last season that his bat still has life with a .300 average and 22 home runs with the Mets and Giants. A two-year contract limits his injury liabilities for the Cardinals, and gives the team proven on-base ability in front of Matt Holliday, the team's best hitter.
Breakout Candidate: SP Lance Lynn - The 24-year-old righty will be in his first year as a full-time starter in St. Louis. More of a finesse pitcher than a power guy, Lynn could rack up strong innings with his hard sinker and ability to consistently throw strikes. Expect solid numbers.
Bust Candidate: 1B Lance Berkman - He had a terrific first season in St. Louis, finishing 6th in the Majors with a .959 OPS. But he's now 36, and very few players not named Ted Williams can keep up that kind of offensive production into their late 30s.
-
2. Milwaukee Brewers (Projected Record: 88-74, 61 percent chance of making playoffs)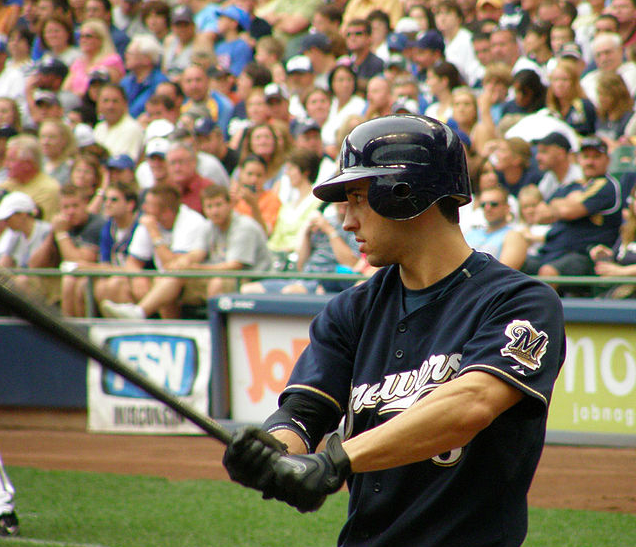 The Brewers bested St. Louis for a division title in the regular season, but couldn't get past them for a World Series berth.
Biggest Loss: 1B Prince Fielder - Again, obviously. The problem for Milwaukee is that, after Fielder signed with Detroit first base duties now fall on inexperienced Mat Gamel, who struggles to hit lefties, and has yet to prove he can consistently hit Major League pitching.
Best Pickup: 3B Aramis Ramirez - He'll produce in the cleanup role for the Brewers, with an over/under of 26 home runs. That's good power, and something that is sorely needed to replace the big shoes left by Fielder (pun very much intended).
Breakout Candidate: SP Shaun Marcum - Poor Marcum, he really did struggle in the postseason. He gave up at least four earned runs in each of his three short starts, allowing an average of more than two baserunners to reach per inning. But he's a good pitcher, promise. And while 30-year-olds aren't really likely to "break out," the right-handed Marcum has the chance to keep his walk numbers down and put it all together for a stellar 2012 season to join Yovani Gallardo and Zack Greinke at the top of the rotation.
Bust Candidate: OF Nyjer Morgan - The beloved "Tony Plush" turns 32 this summer, and is just a year removed from a season in which he sported a below-.320 on-base percentage and zero home runs. That's not the type of production you want from the top of your order, and T-Plush could certainly regress to something resembling those numbers.
-
3. Cincinnati Reds (Projected Record: 86-76, 46 percent chance of making playoffs)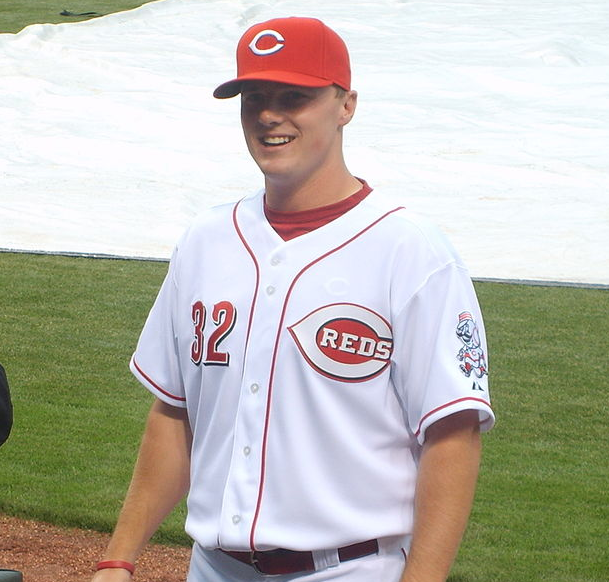 On the heels of making former MVP first baseman Joey Votto $251 million richer, the Reds look to take advantage of one of the extra Wild Card spots this season.
Biggest Loss: RP Ryan Madson - Yes, the biggest loss is a player who won't ever suit up in Cincinnati red. The team committed $8.5 million (uninsured), and they had good reason to. Madson was coming off two straight seasons with a sub-2.55 ERA and striking out an average of one hitter per inning as the Phillies' closer. But a torn elbow ligament puts Madson on the DL and Sean Marshall into the closer's role.
Best Pickup: SP Mat Latos - It was costly, as the team had to give up SP Edinson Volquez and star prospect 1B Yonder Alonso. But Latos is the real deal. Yes, spacious Petco Park in San Diego deflated Latos' ERA, but his career road ERA is still a strong 3.57, with good strikeout numbers to match. He'll match well with Johnny Cueto at the top of the rotation.
Breakout Candidate: SS Zack Cozart - It's his rookie season, but there's a lot to like. Cozart, 26, plays solid defense and comes off a solid offensive season in Triple-A in which he hit .310 with an .825 and also brings some power to the plate. Could turn into a very good everyday shortstop.
Bust Candidate: LF Ryan Ludwick - Textbook regression is in progress. Just look at the pattern developing.
Year
Age
Tm
Lg
PA
HR
BA
OBP
SLG
OPS
2008
29
STL
NL
617
37
.299
.375
.591
.966
2009
30
STL
NL
542
22
.265
.329
.447
.775
2010
31
TOT
NL
553
17
.251
.325
.418
.743
2011
32
TOT
NL
558
13
.237
.310
.363
.674
9 Yrs
2974
117
.261
.332
.455
.787
If these numbers keep their downward trajectory, Ryan Ludwick will crash into the sun by 2035. Or at least struggle this season from a critical corner outfield position.
-
Here be monsters. This is where the division descends into the second tier of non-contenders.
4. Chicago Cubs (Projected Record: 74-88, 3 percent chance of making playoffs)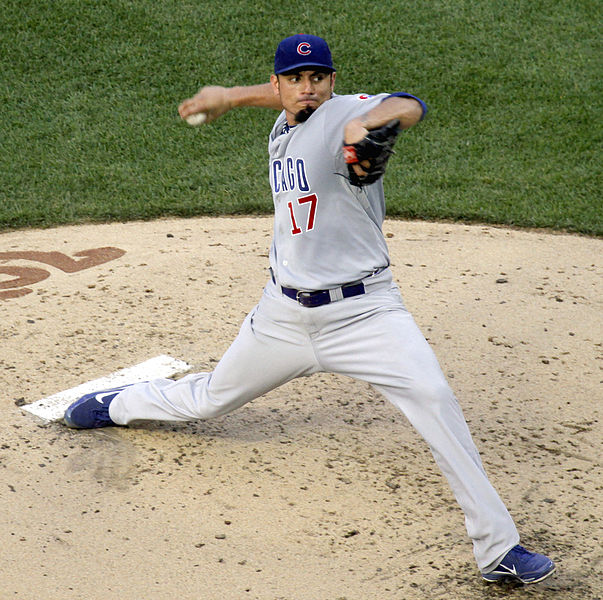 Bringing Jed Hoyer and Theo Epstein to the front office: good! The baseball team as it currently stands: lousy! It will take a bit for the brains of Hoyer/Epstein to pay dividends.
Biggest Loss: 1B Carlos Peña (and 3B Aramis Ramirez) - Don't let Peña's paltry .225 average make you think he had a poor season. His ability to draw walks and sock dingers made him the fifth-best offensive first baseman in the NL last season. His return to Tampa Bay leaves first base to Bryan LaHair, who has yet to experienced sustained MLB success, but was the best power hitter in the Pacific Coast League last year.
Best Pickup: RF David DeJesus - He's more than capable as a defensive right fielder, but his 2011 numbers (especially a .323 on-base percentage) leave a lot to be desired for his abilities as a leadoff hitter.
Breakout Candidate: SP Chris Volstad - The 25-year-old righty comes north from Florida after a 4.89 ERA in 2011 pushed him out of favor among Marlins fans. But there's reason for hope. About one in every six flyballs Volstad allowed last year went over the fence for homeruns, third most in MLB. Statisicians have proven that such a ratio usually regresses to the mean. Translation? Look for fewer longballs off Volstad and a lower ERA to match.
Bust Candidate: LF Alfonso Soriano - Did Soriano really hit 26 home runs last season? I guess so. In any event, he's 36 years old now, and has major problems getting on base. The power could be the next thing to go.
-
5. Pittsburgh Pirates (Projected Record: 73-89, 2 percent chance of making playoffs)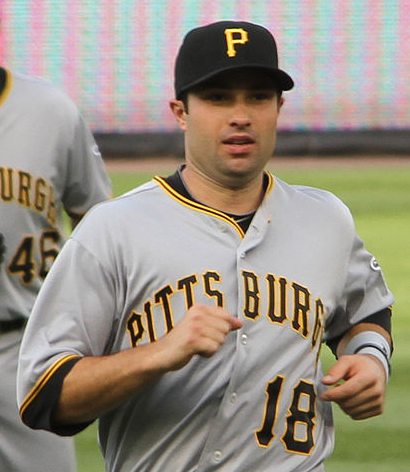 The Buccos may have led the division past the All-Star break, but a 19-43 finish (starting with the
Jerry Meals game
) sunk the ship. At least budding superstar Andrew McCutchen is locked up through 2017.
Biggest Loss: LHP Paul Maholm - Pittsburgh's most consistent starter over the last six years heads to the intradivision Cubs. He may not duplicate a career-best 3.66 ERA from last season, but Maholm has stayed remarkably healthy over the years. The Pirates will miss the 170+ effective innings he provided year after year.
Best Pickup: LHP Erik Bedard - So they replaced one lefty with another on the opposite end of the spectrum. Maholm is a ground-ball pitcher. Bedard relies on strikeouts and fly balls. Maholm is a workhorse. Bedard has a nasty injury bug. But if Bedard can stay healthy, he's the team's best starter. That's a mighty if, though, for a guy that hasn't pitched 130 innings since 2007.
Breakout Candidate: RF Jose Tabata - He's just 23 years old, but entering his third Major League season. He has yet to develop his supposed power potential, but could still become a doubles machine with good on-base skills and he continues to draw more walks and improve his plate discipline as he did in 2011.
Bust Candidate: RHP Jeff Karstens - All rise who thought Karstens would finish 2011 with a better ERA than Jon Lester, Felix Hernandez or Chris Carpenter. Sit down, liars. Unfortunately for Karstens, he can't repeat his 3.38 ERA. For example, he allowed just two home runs to the 248 batters he faced with men on base. He's a good pitcher, but that number will go up, as will Karstens' ERA.
-
6. Houston Astros (Projected Record: 61-101, 0 percent chance of making playoffs)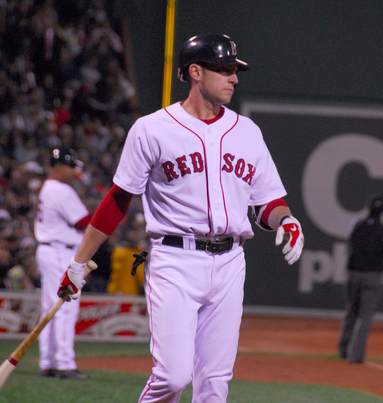 Whoa. Whoa. How often do you see PECOTA project a team to have less than a 0.05-percent chance of reaching the postseason. And this is with five playoff spots per league. Houston's playoff chances are lower than Snooki's IQ score.
Biggest Loss: OFs Hunter Pence and Michael Bourn - Yeah, they were dealt at the deadline, not in the offseason. But losing your two best guys at getting on base represents a massive downgrade.
Best Pickup: SS Jed Lowrie - He's only a year removed from a .381 on-base percentage with Boston. And at 27 years old, he still has a few years of production left. Pretty good offensive shortstop.
Breakout Candidate: RHP Bud Norris - Still relatively young and starting to put it all together, Norris consistently hits 93-94 mph on his fastball. High strikeout totals keep the ball out of play for a subpar Astros defense. He offers hope for a team with an awful pitching staff.
Bust Candidate: I don't know, pick someone. Carlos Lee. Sure. You're still reading about the Astros. You figure it out.
-------------------------------
Reach James by email or follow him on Twitter, @JamesSantelli.