USC Sports
USC Football Spring Notebook: Defense Continues To Dominate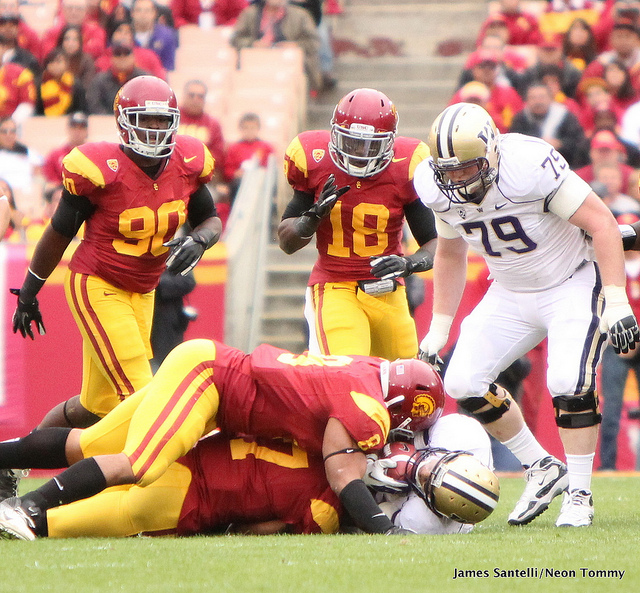 Unlike last practice, major news came out of Thursday's practice. However, the team did play in pads, allowing for a physical day of football.
MADDEN AT RB – DAY 2: Tre Madden had another great day of playing at tailback, drawing praise from coach Lane Kiffin once again. "He had really good forward leaning in runs, really good feet," Kiffin said. Obviously, he has a long way to go, but it's an exciting prospect to have."
DEFENSE BEATING THE OFFENSE: A common them up to today's practice has been the defense's ability to best the offense. Redshirt senior safety T.J. McDonald was noted in having an excellent day, which included an interception off senior quarterback Matt Barkley. Kiffin did note that the offense was shorthanded, adding to the defense gaining an upper hand: "It helps not having Robert [Woods] or George [Farmer] out there." Kiffin also had praise for redshirt sophomore defensive tackle George Uko, who Kiffin said had a "dominant" Tuesday practice. "The sky's the limit for him," he added. Check out the rest of Kiffin's press conference below:
TRACK STARS: There are a few players on the football team -- including Marqise Lee, Nickell Robey and D.J. Morgan. There happens to be a track meet at 10 a.m., which is an hour before the team scrimmage kicks off at the Coliseum. Regarding Robey and the secondary, Kiffin said it's "the best they're playing since we've been here." Check out Robey and Morgan below:
__________________________
Reach Will by email or follow him on Twitter.