Sports
USC Football Spring Notebook: Aggressive D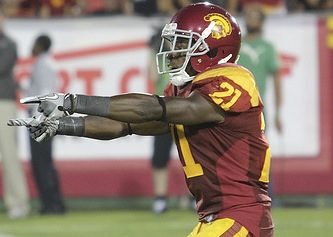 USC held the third of its 15 spring practices Saturday morning at Howard Jones Field. It was the Trojans' first practice in full pads.
SCARE AT CENTER: Early in practice senior center Khaled Holmes went down with a leg injury and remained out for the duration of practice. Head coach Lane Kiffin disclosed following practice that the injury didn't look to be serious, and appeared to be a strained calf. However, in Holmes' absence the offense struggled to find a rhythm.
SPRING BREAK: USC students have the next week off for Spring Break. The Trojan football team will take advantage of the respite as well. As we have noted, there have been a lot of players banged up in the first three practices as the spring, along with a handful who came in with pre-existing ailments. After practice Kiffin acknowledged that practices were strategically scheduled around the break, to accommodate the healing of injuries that often occur during the first week of any spring practice.
ROBEY EARNING PRAISE: CB Nickell Robey was singled out by Kiffin as the "MVP of the day," after making a spectacular interception early in practice. Robey makes the most of the balls that come his way, Kiffin noted, which perhaps explains why the quarterbacks usually avoid throwing towards him.
GETTING DEFENSIVE: Following Saturday's practice Kiffin fielded a handful of questions about the Trojan defense. Kiffin pointed out that despite a 10-2 record in 2011, USC still struggled against the pass, and that he is looking for tangible statistical improvement from the unit in 2012. Both Lane and his father Monte, noted that another year of familiarity in the system should allow players to raise their level of play, and specifically, force more turnovers.
Reach Scott by email, or follow him on Twitter.