Nation and World
U.S. Agrees To Turn Prison Over To Afghan Control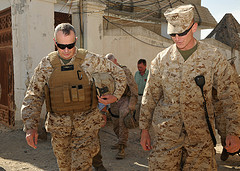 Commander of U.S. forces in Afghanistan, U.S. Marine Gen. John Allen, and Afghan Defense Minister Abdul Rhaim Wardak signed an agreement Friday to turn over the main U.S.-run prison in Afghanistan over to Afghan control over the next six months.
The transfer is being called a "breakthrough in talks over a long term strategic partnership," said The Wall Street Journal:
A first group of 500 detainees at Bagram is expected to be turned over to Afghan custody within 45 days, senior U.S. officials involved in the negotiations said. About 50 non-Afghan detainees at the prison will remain in U.S. custody, the officials said.
After the six-month hand-over period ends, U.S. advisers will remain at the Bagram detention facility for at least another year in an advisory and supporting role, and to ensure that the treatment of detainees doesn't violate international standards, the officials said. A U.N. report last fall alleged systematic torture and human-rights abuses of detainees in dozens of Afghan detention centers across the country.
The New York Times reported:
The American ambassador, Ryan C. Crocker, suggested that both sides had compromised to reach the deal. "A good agreement represents a balance of concessions on both sides," he said after the formal signing by General Allen and Mr. Wardak. "I won't say they were the side that gave up the most, but the side that lost the most was the Taliban."
Afghan authorities had demanded immediate, complete control over all detainees, but on Friday Mr. Wardak called the agreement "a great achievement."
In addition to the prison agreement, there was also a push to end night raids by American forces in Afghanistan. The U.S. has maintained that the raids are a necessary part of their Afghan military strategy in the capture of Taliban fighters. The issue is still being discussed with hopes to find a compromise by next week.