Nation and World
UPDATE: French Gunman Standoff Nears 24-Hour Mark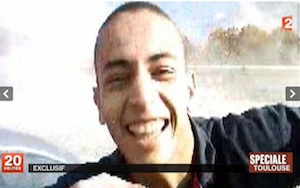 French police continue to push Islamic activist and murder suspect Mohammed Merah toward surrender tonight, as a siege at his apartment home in Toulouse, France nears the 24-hour mark.
Merah, 24, is accused in the killings of seven individuals, including a rabbi, three Jewish children, and three paratroopers over an eight-day shooting spree. Clues related to Merah's weapon, his scooter, and an Internet IP address led officials to his current location in a southwest district of Toulouse, according to U.K. Telegraph's France correspondent Henry Samuel.
Conflicting reports about whether or not the residence had come under assault from French police have risen throughout the day, the result of police actions meant to persuade Merah to yield. Earlier this evening, street lights of the neighborhood were shut off, gas and electric lines were cut, and spotlights were trained on Merah's apartment so that police in night vision goggles could better track his movements.
According to the Associated Press:
As midnight approached, three explosions were heard and orange flashes lit up the night sky near the building. An Interior Ministry official said the suspect had gone back on a previous pledge to turn himself in — and that police blew up the shutters outside the apartment window to pressure him to surrender.
Hours later, two new blasts and a burst of gunfire were heard, though officials insisted no full-out assault was under way.
Authorities were "counting on his great fatigue and weakening," said Didier Martinez of the SGP police union, adding the siege could go on for hours.
Merah remains inside the home, armed with powerful assault weapons. Negotiations, stalled for a time earlier Wednesday, have continued, but there is no end in sight to the blockade. For now, hundreds of French policemen, officials, and journalists are camped out around Merah's residence as cold sets in, waiting for the sun to rise.
Follow live European coverage of the stand-off here, and read related Neontommy.com articles.
Reach Executive Producer Leslie Velez here.