Nation and World
Toulouse Shooter Will Be Buried In France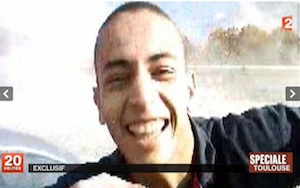 The terror suspect in a shooting spree that took place in southern France earlier this month will be buried in France after Algerian authorities refused his body.
Mohamed Merah, who was trained by Al Qaeda, killed seven people before he was shot last week during a standoff with police that lasted more than 32 hours. The mayor from Merah's hometown in Algeria decided that burying him there would be "inappropriate.
The Daily Telegraph has more:
"He was French. Let him be buried and let's not have any arguments about it," Sarkozy told BFMTV news channel in a bid to bring and end to a tragic episode that eclipsed an increasingly tight presidential election campaign.

"I've said what I think of Mohamed Merah, who behaved in a monstrous way," Sarkozy said of the Al-Qaeda-inspired gunman shot dead by police at his Toulouse flat on March 22.

Sarkozy was speaking after Toulouse's Socialist mayor Pierre Cohen called for Merah's burial at the southwestern city's Cornebarrieu cemetery to be delayed a day pending a decision from the relevant authorities on whether it should go ahead.

"Following Algeria's last minute refusal to accept Mohamed Merah's body, Pierre Cohen feels that his burial within the city of Toulouse is inappropriate. So he has asked the regional prefect to delay the burial 24 hours," city hall said.
Merah's mother, Zoulhika Ziri, hoped her son would be buried in Algeria and said she was worried her son's grave would be vandalized in Toulouse. An Islamic official who is assisting Merah's family with the burial said that he believes Merah will be buried in an anonymous grave and that the burial will be discreet, according to the Daily Telegraph.
The shooter's father, Mohamed Benalal Merah, criticized French authorities over his son's death and has threatened to sue France. He claims the French government should have captured his son alive by using "sleeping gas" to capture him "like a baby."
French officials have sharply criticized the shooter's father. "If I were the father of such a monster, I would shut my mouth in shame," said Alain Juppe, France's foreign minister.
Merah killed four people outside of the Ozar Hatorah Jewish school in Toulouse, France last Monday. Rabbi Jonathan Sandler, 30, and his two young sons, Gabriel, 3, and Aryeh, 6, were gunned down. Another victim, 7-year-old Myriam Monsonego, the daughter of the school's principal, Rabbi Yaacov Monsonego, died in her father's arms after being shot execution-style.
Just four days prior to the shooting outside the Jewish school, two French soldiers of North African descent were shot dead in Montauban—a town about 28 miles north of Toulouse. The soldiers were Corporal Abel Chennouf, 25, and Private First Class Mohammed Legouade, 23—both from the 17th Parachute Engineering Regiment. In an earlier attack, Merah gunned down another French soldier, Paratrooper Imad Ibn Ziaten, in Toulouse. Ibn Ziaten is also of North African origin.