Theater and Dance
THEATER TALK: Exclusive Interview With Jake Epstein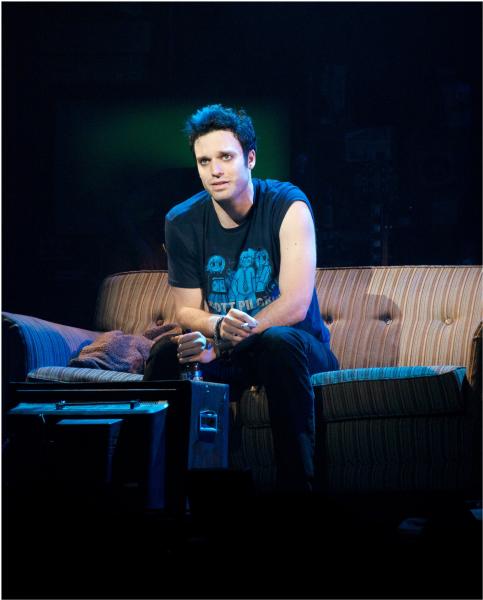 There is something incredibly compelling about being in the presence of Jake Epstein. It's intangible, but undeniable; being near him commands your attention. Perhaps it's the keen look in his eyes when he's describing something he really cares about, or the general impression of a sharp brain at work behind said eyes, but there's something that makes it hard to look away from him when you're in his presence. This is surely why he is such a magnetic force when he is on stage, and one cannot help but want to see more of what is to come from the young actor.
Epstein got his start in the business in the world of television, appearing in the Disney Channel Original Movies "Quints" and "My Mom's Got a Date With a Vampire" (feats he laughingly calls "Incredible. Part of history" and then continues, "I don't know what I'm doing [in those], but I had a good time") and the television show "Degrassi," for which he is possibly best known. After studying theater at university in Montreal, Epstein did some plays in Canada before embarking on the national tour of "Spring Awakening."
Despite working from an early age, Epstein has somehow managed to avoid the traditional pitfalls of child stardom. He doesn't quite know how he did it, but he chalks it up to having surrounded himself with grounded people. He adds, "the longer I've been doing this, the more you have ups and the more you have downs, and when you have downs, you realize how lucky you are when you're up, so I think there's no room to be conceited." Needless to say, his career has taken a remarkably different turn from that of his peer, Lindsay Lohan, though coincidentally, shortly after arriving in LA last spring, Epstein literally bumped into her at a piano bar. That encounter aside, throughout his career, Epstein has kept a low profile and focused on his work, with an ethic that has clearly paid off.
Epstein is very grateful for the opportunities he's had, from his education to the work he's done so far. He mentions that school "didn't just train me how to be an actor, but trained me how to take care of myself, and take care of my speaking voice and my singing voice and my physical body, and sort of prepared me for all the other stuff that becomes such an important reality of being an actor." He also appreciates his time succeeding Kyle Riabko as Melchior on tour with "Spring Awakening," though it was a challenging experience—"not only coming into this group that had been together for a year, but to step into a leading role like that, where people are like, 'who the hell are you?' It was really hard in the beginning." Nonetheless, he says it has been great to see reactions to both "Idiot" and "Awakening" all over the country.
When the topic turns to "Idiot"-ic matters, Epstein becomes effusive, despite the challenges the show entails. While the show is physically stressful—one of the show's physiotherapists "mentioned that I might have given myself whiplash once," though the cast did receive headbanging lessons so they could rock out in a safe manner—and emotionally challenging, as his character, Will, sits on a sofa for the vast majority of the show, Epstein clearly feels at home on stage with "American Idiot." He views his character's couch potato tendencies as "a great problem to have, as an actor. It's like something out of theater school. You have a whole show, your problem is you don't want to face the outside world or take responsibility for what's happened to you. At the same time, you want to get off and make something with your life. Therein lies your problem, you have a piece of furniture, go!"
He also loves the freedom that working on this show, and particularly working with director Michael Mayer again, has afforded him. "He probably demands, more than anyone else, just a lot more of you bringing yourself and your own personality into it, he doesn't want you to be 'acting,' which I find so interesting and challenging." For all that he loves having freedom, though, he is self-avowedly a person who loves routine, so having a long stop in Los Angeles has been a nice respite from the company's ever-changing tour schedule. Indeed, Epstein's performance as Will in "American Idiot" is one of the best currently in Los Angeles, and hopefully audiences will take advantage of the show's presence at the Center Theatre Group.
Jake Epstein and the rest of the "American Idiot" company will be at the Ahmanson through April 22.
Read the full interview here.
Reach Katie here.