International
Syria Accepts Terms Of UN Peace Proposal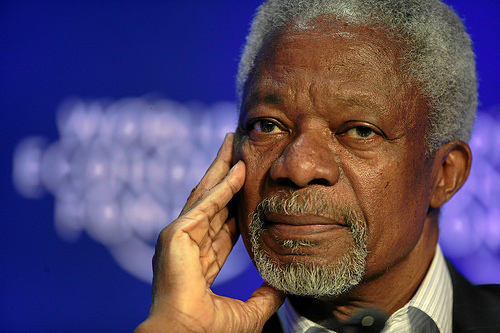 In an encouraging show of progress, Syria accepted a United Nations-backed peace plan Tuesday, according to international envoy Kofi Annan.
Reuters reported the country's main rebel group is in support of Annan's 6-point peace plan which calls for a national dialogue without demanding Bashar al-Assad step down from the presidency.
The development comes just after Syrian troops raided Baba Amr, "an emblem of opposition and rebel army defiance," Reuters reported. Assad even toured the area, allegedly to flaunt his power.
From Reuters:
Syrian state television showed video of Assad, wearing an open-necked shirt with a blue suit, walking casually in the devastated streets of the Baba Amr district and talking to groups of supporters and troops in combat gear.

"Life will return to normal in Baba Amr, better than it was before," Assad said.

Activists says hundreds of civilians and opponents of Assad were killed in Baba Amr in February by shelling and snipers.

"He thinks he won and scored a great victory," said opposition activist Saif Hurria, speaking by telephone from Homs. "He wants to show the world he defeated and put down a revolution. But ... it seems he can't even release the video until he has left Homs. That is not control"

Opposition supporter Abu Jaafar said Assad's appearance in Homs was "giving the green light to kill like this again."
Annan said Monday that Assad was finally giving in to some efforts for reform, but it wouldn't be an easy transition.
Again, from Reuters:
He said Assad's acceptance of the peace plan was "an important initial step" but conceded he faced a "long and difficult task" in ending the fighting and said he could not set any timetable.

U.S. ambassador to Syria Robert Ford said in Washington that if would be unwise, from his experience, to take Assad at his word. "You want to see steps on the ground," he said.

Annan's plan calls for withdrawal of heavy weapons and troops from population centres, humanitarian assistance being allowed in unimpeded, release of prisoners, freedom of movement and access for journalists to go in and out, Annan said.
The People's Assembly of Syria has asked that Assad put off the May 7 parliamentary elections until there's some evidence of the effects of reform, giving that national dialogue time to yield something productive.
World leaders are expected to meet Sunday in Istanbul to further discuss a successful transition for Syria's government.