Politics
For Romney, It's Not About Winning- It's About Math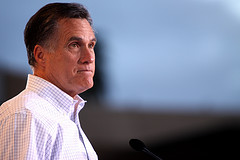 After his victories in Mississippi and Alabama on Tuesday, Rick Santorum may have a more confident stride, but at the end of it all, it comes down to math. And so far, Mitt Romney has the numbers on his side.
The New York Times reported:
...despite the millions of dollars that Mr. Romney and his allies continue to spend to try to emerge victorious in those contests, his campaign now increasingly argues that the outcomes are not the only things that matter. Their premise: Mr. Romney can — and will — win even while losing.
It's all comes down to delegate math, and even after losing Mississippi and Alabama, Romney remains the frontrunner. According to The Wall Street Journal, the Romney campaign released a statement by political director Rich Beeson, stating that Romney's delegates are clear indications that his victory is approaching.
"Last night's results give him 50% of all the delegates awarded to date and 45% of the delegates needed to clinch the nomination," Mr. Beeson wrote.
Romney went into the Tuesday contests with 237 more delegates than Santorum. And even without winning the people's votes, he still gathered 82 delegates over Santorum's 71. According to The New York Times, Romney now has 495 delegates to Santorum's 252. At least 1,144 delegates are needed to win the nomination.
Though Romney is still the leading man for the GOP-- with 33 percent of the Republican voters favoring him over Santorum's 24 percent, according to a Pew Research Center national poll-- another Pew Research poll found that President Obama's approval rating would overtake Romney. Businessweek reported:
The March 7-11 poll gave Obama a 54 percent to 42 percent lead over Romney, a former Massachusetts governor, and a 57 percent to 39 percent edge over Santorum, a former U.S. senator from Pennsylvania. The survey of 1,503 adults had a margin of error of 3 percentage points overall and 5 percentage points for subsets of Republicans and Republican-leaning voters.
Upcoming winner-take-all races include: Washington, D.C. on April 3 (where Santorum will not be on the ballot); Delaware on April 24; New Jersey on June 5; and Utah on June 26.