Los Angeles
Rave Producers, Former L.A. Coliseum Execs Charged In Scandal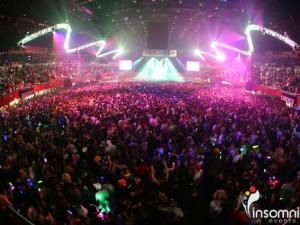 Six people, including two former Coliseum executives and the owner of rave promoter Go Ventures Inc., were arrested as a part of a corruption scandal Thursday. Chief Executive Officer of rave promoter Insomniac Inc. Pasquale Rotella turned himself into authorities Friday.
Former Coliseum general manager Patrick Lynch, events manager Todd DeStefano and rave promoter Reza Gerami were arrested by investigators from the district attorney's office, according to news reports. All four pleaded not guilty to corruption charges included in a grand jury indictment. Although the charges remain unclear, the Los Angeles Times has been covering the corruption scandal involving millions of dollars in under-the-table transactions. The arrests conclude a 13-month investigation by the district attorney's office.
The Coliseum Commission, a joint-powers authority that oversees the taxpayer-owned complex, sued Insomniac Inc., Go Ventures Inc., Lynch and DeStefano last year for allegedly siphoning off revenues.
Also indicted were former Coliseum technology manager Leopold Caudillo Jr. and ex-stadium contractor Tony Estrada, according to KTLA.
Bail for four of the defendants was set in amounts ranging from $800,000 to $1.2 million. Caudillo and Estrada are traveling and did not appear in court.
Lynch's attorney, Tony Capozzola, said on Thursday that his client is innocent. Most of the money that Lynch received from the contractor was deposited in a Miami bank account, in regular installments over many years. Capozzola said the payments were for a private boat deal.
DeStefano's lawyer, Richard G. Hirsch, said in a statement Thursday that his client had permission from Lynch, his supervisor, to work on the side with promoters such as Gerami, while they did business with him in his Coliseum job.
Attempts to reach Gerami's attorney Thursday were unsuccessful. The promoter has previously denied doing anything wrong. For many years, his company staged popular raves at the Sports Arena.
The Los Angeles Times reported Rotella's attorney Gary Jay Kaufman's response that his client will vigorously defend himself:
"All defendants are presumed innocent. In this case, Mr. Rotella is not only presumed innocent. He is actually innocent."
As reported on MarketWatch, Kaufman has said in a statement any charges against Rotella are "politically motivated and publicity driven."
"Pasquale Rotella has always acted lawfully and appropriately with respect to all of his dealings with the Los Angeles Memorial Coliseum. Any allegations of wrongdoing on the part of Mr. Rotella by the District Attorney's office are completely baseless and flat-out wrong, both on the law and on the facts."
"All transactions between Insomniac and the Coliseum were transparent and approved by the Coliseum General Manager, his staff and the attorneys representing the Coliseum."
Insomniac has been promoting successful raves like Electric Daisy Carnival and Nocturnal Wonder for almost a decade. According to Rolling Stone, EDC is expected to bring more than 200,000 fans the weekend of June 8 in Las Vegas this year, up 100,000 from 2010.
Rolling Stone recently spoke with Rotella for an upcoming story on the Las Vegas dance scene. During the interview, Rotella addressed Insomniac's reputation, citing the success of last year's Electric Daisy Carnival in Las Vegas as proof of the company's improved image since 2010. "That EDC Vegas went on without any problem after there was that much attention was a real big reason why so many more doors have opened to us for new cities, new venues," Rotella said. "We've worked really hard to protect what we love, and as a result, people see that we care and that measures can be taken to do these events safely."
On June 25th and 26th, 2010, the Electric Daisy Carnival brought in more than 100,000 jubilant revelers per night to the Los Angeles Coliseum. It should have been a triumphant weekend for Insomniac, but the festival was marred when 15-year-old Sasha Rodriguez was found dead outside the Coliseum grounds, having overdosed after being brought to a local hospital with ecstasy in her system.
Insomniac Inc. said its Electric Daisy Carnival and other planned music events will not be affected by its CEO's indictment.
Reach Executive Producer Rosa Trieu here. Follow her on Twitter.