National
President Obama Joins The National Outcry For Trayvon Martin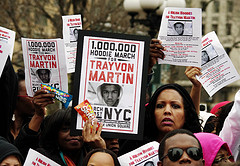 President Obama gave his reactions to the slaying of 17-year-old Trayvon Martin on Friday, saying it was "a tragedy" and that a federal investigation of the case was crucial.
"I can only imagine what these parents are going through," Mr. Obama said from the White House Rose Garden, as CBS News reported, "and when I think about this boy, I think about my own kids, and I think every parent in America should be able to understand why it is absolutely imperative that we investigate every aspect of this and that everybody pulls together, federal, state and local, to figure out how this tragedy happened."
The Justice Department has begun investigating the shooting that happened on Feb. 26 when the unarmed Martin was killed by 28-year-old George Zimmerman, a neighborhood watch leader, who claimed he did it in self-defense.
Even though Sanford Police Chief Bill Lee, Jr. temporarily stepped down after receiving a "no confidence" vote from the city commission in regard to how he's handled the investigation, it has done little to appease the outrage, said CNN:
"I feel that we need an arrest," his mother, Sybrina Fulton, told supporters at a rally in Sanford, referring to George Zimmerman, the watch leader who has told police he shot Martin in self-defense.
"The temporary step-down of Bill Lee is nothing," Tracy Martin, Trayvon's father, told the rally. "We want an arrest, we want a conviction, and we want a sentence for the murder of our son."
The Rev. Al Sharpton was more strident: "We did not come here for a temporary leave of absence," he said. "We came for permanent justice -- arrest Zimmerman now!"
Trayvon's father, Tracy, also shared with CBS how his son had saved him from a fire when the boy was only 9 years old.
"And at his time of need, I wasn't there to save his life," he said. "But I pledge my life to continue to push forward until we get justice for my son."
The demand for justice has spread nationwide as people sign petitions urging the prosecution of Zimmerman. According to CNN, "more than 1.3 million people have signed a petition on Change.org urging prosecution for Zimmerman. Thursday morning, the petition was getting 1,000 signatures per minute, said Noland Chambliss, communications manager for Change.org."
However, Zimmerman's father has come forward, saying his son is being misrepresented by the media:
"The portrayal of George Zimmerman in the media, as well as the series of events that led to the tragic shooting, are false and extremely misleading," his father wrote in a letter published in the Orlando Sentinel. "Unfortunately, some individuals and organizations have used this tragedy to further their own causes and agendas."
"George is a Spanish-speaking minority with many black family members and friends," Robert Zimmerman wrote. "He would be the last to discriminate for any reason whatsoever."
Zimmerman has not been prosecuted because of Florida's "stand your ground" law, which permits people to meet "force with force" if they believe themselves or others to be in serious danger.
The law has come under as much pressure as the Florida investigation.
The shooting has renewed a debate over a controversial state law and sparked calls for a review. Florida's governor announced Thursday he will do just that.
"After listening to many concerned citizens in recent days, I will call for a Task Force on Citizen Safety and Protection to investigate how to make sure a tragedy such as this does not occur in the future, while at the same time, protecting the fundamental rights of all of our citizens -- especially the right to feel protected and safe in our state," Scott said in a statement.
The task force will be led by Lt. Gov. Jennifer Carroll. The Rev. R. B. Holmes, Jr., pastor of the Bethel Missionary Baptist Church in Tallahassee, will serve as vice-chair.
Protesters have been gathering around the country, demanding justice for Trayvon's murder. The "Million Hoodie March" took place in New York this week as well as a rally that attracted hundreds to Leimert Park in Los Angeles. Rallies are expected to continue- and intensify- this weekend as the outcries for justice surge: