Nation and World
Pope Calls For Change In Cuba As Historic Visit Ends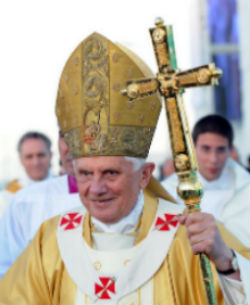 After saying a final Mass to more than 300,000 people -- including almost 300 Cuban-Americans -- in Havana, Cuba's Revolution Square, Pope Benedict XVI took to his jet and flew back to Rome on Wednesday, completing the first papal trip to the island nation in 14 years.
The pope expressed a range of thoughts and wishes regarding Cuban society and the country's relationship with the United States during three-day excursion, which included closed-door meetings, a visit to the national shrine, and two outdoor masses.
Benedict called to increase the presence of Catholic Church, significantly undermined during Fidel Castro's nearly five decades of rule, in Cuba. According to the Miami Herald:
Benedict's valediction also called for greater religious freedoms in Cuba that would not be impeded by "limitations on fundamental liberties, nor exempted ... by lack of material resources,'' a situation, he said, that is "aggravated when restrictive economic measures imposed from outside the country weigh negatively on the population'' — an obvious reference to the U.S. embargo of Cuba.
A Reuters report says that President Raul Castro told the Pope that the visit "has taken place in an atmosphere or mutual understanding," making an effort to show unity with the Church, "although it's natural that we don't think the same on all issues."
The papal visit was not without controversy or inconvenience to Cuban citizens. The Miami Herald also reported:
Behind the scenes of the pope's visit, the Cuban government used a strong hand to control public perception of events by restricting the access of the international press corps and stepping up arrests and detentions of dissidents. More than 60 people were detained or placed under house arrest on Tuesday to keep them away from Wednesday's globally-televised Mass in Havana.
Local human rights organizations, including the Cuban Commission on Human Rights and National Reconciliation, had their phone lines cut off since Monday, reported Amnesty International. The mobile phones of prominent activists and government critics also were unreachable.
Pope Benedict expressed a desire that both Cuba and the world would change for the better and work toward avoiding future political and economic upheaval. Reuters reports that, among Pope Benedict's closing remarks, he said, "I wish to encourage the country's government authorities to strengthen was has already been achieved and advance along this path.
Reach Executive Producer Leslie Velez here.