Opinion
New USC Student Government Must Support Students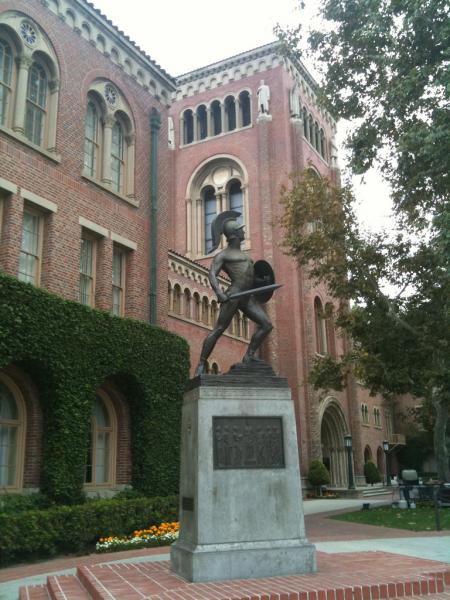 Kaya Masler is a political science 
major and the former campaign manager for "Theo & Julia."
To be honest, I never imagined I would get involved in campus politics. I wasn't aware, until a few weeks ago, that $50 of my tuition goes towards sustainability mugs or program board, or even that those things existed. USC always surprises me, though, and I found myself working as a campaign manager for one of the presidential tickets on the ballot a few weeks ago.
Walking with Theo and Julia on their platform of diversity meant a lot of walking, but it also meant a lot of meeting some really impressive people. Each day, the campaign became less about competing against other qualified individuals for a coveted, resume-boosting position and more about the people that we spoke to. It showed me what a big campus we have and what big lives students here are living. I'm sure the other campaign teams understand what I mean when I say that every day the campus seemed to grow miles under my feet and every day my respect for the people at this school outgrew it.
However, a list concerns and suggestions also piled up.
It became apparent to our team that there are more issues facing students on this campus than there is room on a campaign platform. However, it also became clear that someone had to bring attention to those issues, no matter who made it into that little office on third floor of the campus center. So, this letter goes out to the leaders on this campus: to the magnetic Mikey Geregos and the venerable Vinnie Prasad, to the beautiful shiny-new set of USG senators, and to the administration at large.
The following is a list of concerns and suggestions from students, and we hope, or rather, know that you will take them seriously:
1. The most popular proposal throughout campus was the extension of hours at Doheney Library. Leavey is always over-crowded and USC students shouldn't have to study for finals on the floor.

2. Speaking of space, the dancers at this school have none. Professionals are practicing in the PED basement with no mirrors. Similar space issues apply to theatre students, who often have to go off campus to rehearse. Just because they may be our most creative students doesn't mean they should have to imagine their own workspaces. The PED building might not be the perfect space for performers, but the ROTC students are rather attached to it and fairly concerned about what will become of it once it is gutted and rebuilt next year.

3. And if we're going to talk about rebuilding, let's look to the activist organizations like SCALE (the Student Coalition Against Labor Exploitation) and WCSC (the Women's Coalition for a Safer Campus) who have not received enough acknowledgement for their work in conscientiously restructuring our campus, both physically and culturally. In the wake of the administration's recent, and seemingly successful "Bike Safety Summit," the following question was raised: Where is the summit on sexual safety? What about the summit on safe working conditions for the laborers who provide for this campus? We still have a lot of work to do to make our campus a safe space for women, and we are still one of the only top universities continuing to buy and sell products manufactured in sweatshops fraught with labor abuses, not to mention the job security concerns that many of the USC employees face every day.

4. Another question: How is it that from one year to the next the prices for meal plans stay upwards of $2000 per semester while the menus in EVK and Parkside shifted to offer fewer options in the dining halls after a certain hour? As a freshman pointed out to us: "Sometimes it seems that by the time I get out of an evening class the only option for dinner is pizza."

5. Trying to work off pizza dinners also becomes difficult when student-organized athletic clubs run out of funding for equipment and travel. Suggestion: An Athletic Senator be appointed to USG to better support our awesome club teams.

6. USG actually does offer a set of funds to support student groups but few know how to apply for them. It is important that the new administration work on communication and transparency to let students know what USG can do for them, especially considering that everyone contributes to the general fund. The election season should not be the only two weeks out of the year when representatives from the student government contact students. Delegates should traverse campus throughout the year to discover how to really support this incredible student body.
That being said, thanks for a truly inspiring campus campaign, and good luck in the 2012-2013 school year!
Dream on and fight big.