Entertainment News
"Real Housewives Of Atlanta" From The Motherland To Chaos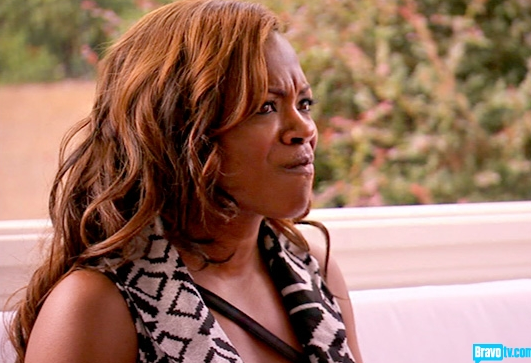 The ladies of "
The Real Housewives of Atlanta
" are leaving South Africa!
Packing is a big ordeal for some of the women. Marlo has specific needs for packing her precious shoes. Thank goodness she has help from one of the staff members.
Kandi and Cynthia are still discussing how awkward the last dinner was. Sheree had brought up at that dinner once again that Kandi could not see Kim in Africa holding little black babies. Kandi did not specifically say that she did agree with Cynthia, but Kandi did say that she could not envision Kim coming at all.
The ladies left to a wonderful song from the staff members. Nene sums it up that after the trip they are back to two separate groups of friends.
Back in Atlanta, Kim is trying to find a nanny to help her raise her kids. She has two housekeepers, and a chef, but she also needs a nanny. Kim gets frustrated because while she is searching, her assistant Sweetie is poolside relaxing. Sweetie at least has an idea that one of the housekeepers could be the nanny. Kim starts decorating the house with the help of her interior decorator. Kim complains about Sweetie not calling people back, and being more of a liability than asset. Maybe Sweetie's days are numbered.
Kim confides that she doesnt know what she is going to do with Sweetie. Kim feels she is doing everything by herself.
The other ladies settle back at home with their families.
Peter and Cynthia don't exactly seem overjoyed to see each other. Cynthia brought back gifts for her daughter, but forgot to get Peter anything. Their one-year anniversary is coming up, and Peter seems set on throwing a big party to celebrate. He doesn't want his wife to plan anything, so he enlists the help of Nene.
Peter and Nene go to see the same wedding planner Peter used for his wedding. As always, Peter wants an extravagant party with the cheapest budget possible. He plans on having 150 guests but doesn't want a lot of food. The wedding planner seems exasperated, but will put together a proposal. Peter doesn't even have his checkbook for a deposit.
Peter uses the time after the meeting, to chat with Nene about her son Bryson. It turns out the Bryson is in jail for stealing two razors at Wal-Mart. He has been in jail at the time for five days, and Nene doesn't want to bail him out. Peter tries to convince her to help him this time, but Nene doesn't budge. She thinks its time her son learns some tough love.
Meanwhile, Kandi gets back from the trip and talks to her mom. He mom is shocked Kandi didn't bring back any kids from the orphanage. She admits to her mom she didn't see Kim going to the orphanage, not because the kids are black, but because she doesn't see Kim doing charity. She sees Kim writing a check. Kandi admits she doesn't think Kim is racist. Her mom says she doesn't see Kim having a racist bone in her body. Kandi doesn't feel like explaining this again. But unfortunately for Kandi, she will have to keep explaining this one.
Kandi and Phaedra go to visit Sheree's property. It is an empty lot. Supposedly Sheree has paid the builder already, but the lot has made no progress. Maybe Sheree has money troubles after all.
Kim has a brunch at her house. Phaedra, Kandi, and Sheree all attend. The brunch starts will small talk, and Kim is just dying to bring up Kandi's comments about her. Finally after an awkward silence, Kim brings it up directly asking directly, "What did you say about me and the orphanage."
All hell breaks lose. Kandi admits she agreed with Cynthia, and she could not see Kim in Africa at all, but Kandi maintains she never mentioned a black baby. 
Phaedra chimes in that it was not a black thing-but she is cut off by the arguing.
Kandi says she doesn't think Kim is racist, but just doesn't see her in South Africa. Kim vehemently disagrees with Sheree just egging the whole argument on. In the end Kandi says the whole legacy of the orphanage is tainted thanks to the petty arguments. Kim thinks her friendship with Kandi is worse off than she thought.
Looks like the trip didn't bring the ladies peace, just more drama.
Reach reporter Tallie J here.
Check back every Monday for Tallie's "Real Housewives of Atlanta" recaps.