National
Goldman Sachs Executive Exits With Furious Op-Ed
In a scathing op-ed in the New York Times, Goldman Sachs executive Greg Smith on Wednesday announced his resignation from the investment bank he'd worked at for 12 years, accusing his now-former of employer of putting profits before the interests of its clients.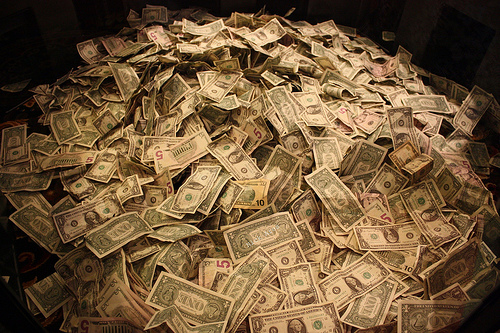 Smith, who was executive director and head of Goldman's U.S. equity derivatives business in Europe, the Middle East and Africa, called the company's culture "toxic" and "destructive" and called on its board of directors to make serious changes in the direction of the firm.
To put the problem in the simplest terms, the interests of the client continue to be sidelined in the way the firm operates and thinks about making money. Goldman Sachs is one of the world's largest and most important investment banks and it is too integral to global finance to continue to act this way. The firm has veered so far from the place I joined right out of college that I can no longer in good conscience say that I identify with what it stands for.
The op-ed goes on, explaining what, in his view, it takes to become a "leader" in the firm and tackling some of the company's internal language when talking about clients:
a) Execute on the firm's "axes," which is Goldman-speak for persuading your clients to invest in the stocks or other products that we are trying to get rid of because they are not seen as having a lot of potential profit. b) "Hunt Elephants." In English: get your clients — some of whom are sophisticated, and some of whom aren't — to trade whatever will bring the biggest profit to Goldman. Call me old-fashioned, but I don't like selling my clients a product that is wrong for them.
There is no way to know how accurate the portrayal is, as the Economist points out.
Still, this has Goldman's loudest critics cheering that this is just confirmation of what was already known. Matt Taibbi, the Rolling Stone reporter who first coined the derisive "vampire squid" moniker for the bank, wrote in a blog post that this could have a greater effect than all of the exposes and Senate hearings combined. Why? "[Because] when one of the firm's own partners is saying out loud that his company liked to 'rip the eyeballs out' of 'muppets' like you, then you start to wonder if maybe this firm is the best choice for managing your money," Taibbi writes.
The company's stock fell by about 4 percent for the day.
Goldman's CEO Lloyd Blankfein downplayed Smith's op-ed in a letter to employees also posted on CNNMoney, which includes the following:
In a company of our size, it is not shocking that some people could feel disgruntled. But that does not and should not represent our firm of more than 30,000 people. Everyone is entitled to his or her opinion. But, it is unfortunate that an individual opinion about Goldman Sachs is amplified in a newspaper and speaks louder than the regular, detailed and intensive feedback you have provided the firm and independent, public surveys of workplace environments.
Skeptics of Smith abound, including some commentators around the web who have taken to criticizing Smith for naivety. New York City-based investment advisor Joshua Brown writes that "the 'culture' of Goldman Sachs was, is and always will be about making money, often at the expense of a client." He compares it to the many similar op-eds published by disgruntled former TechCrunch employees after that blog was acquired by AOL.
But money manager and popular blogger Barry Ritholtz dissagrees, writing that, "Sure, profits matter, but Wall Street used to be about so much more than that. There was a culture of mentoring, developing, teamwork, a belief that doing the right thing for your clients was in your own best interest."