National
The Untold Economic Debate Of Financial Aid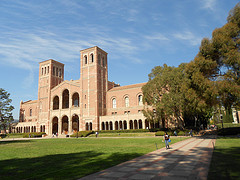 In spite of job creation initiatives and a leaner federal spending plan, the imbalance of supply and demand has led many to believe that higher education in the United States is becoming more unaffordable especially as financial aid becomes more available.
"Broadly, there's a thought that financial aid has done two things at once: lower the price of going to school but helped to inflate tuition," said Guilbert Hentschke, a professor of education and policy at USC.
While an increase in tuition funding for higher education has stimulated demand, the lack of a corresponding increase in supply among non-profit institutions has created an inflationary cycle that well out-trends the growth in consumer price index over the same period.
Indeed, as total student debt and total federal financial aid have risen steadily during the last two decades, average tuition at public and private schools has increased 368 percent at public four-year institutions since 1981, while total federal aid has grown 164 percent in the last decade alone, according to the College Board. At UCLA, for example, non-resident tuition has risen from $2,798 per quarter in 1996 to $7,340 per quarter in 2011.
Among its staunchest proposals to offset the impact of these tuition increases, the Obama administration suggested that money available for Perkins loans — federally funded loans distributed by the institutions themselves — increase from $1 billion to $8 billion annually.
The question remains, however, as to whether these increases would actually reduce the real cost of attending college in the long run. Many in the public sector of higher education see it as a hindrance not necessarily to higher education itself, but to students.
"The availability of more loan money will not necessarily drive up the cost of college attendance," said James Murphy, associate dean for enrollment at the City University of New York. "It will make the real cost of attending college more expensive as they'll have more money to pay back. The more loan money available, the more chances a poor student would borrow money that they'll never be able to repay."
It is here that the Obama administration has recognized the apparent impasse. How can it make education more affordable without adding undue pressure to skyrocketing tuition increases and to student debt that already totals more than that of credit card debt in the United States?
In response, President Obama has stressed value and job creation, proposing universities be judged on an affordability scale to determine eligibility for the federal financial aid. Leveraging value, or the ability of graduates to repay their student debt after graduation, against the institutions incentivizes programs to provide education with real-life application and the opportunity for gainful employment.
These education packages aim to strengthen the economy through job creation and utilization of newly learned skills while meeting demand in the open labor market, otherwise known as gainful employment.
President Obama has lauded the ability of community college and vocational schools to push gainful employment forward, proposing an $8-billion infusion of capital to such institutions that also meet Department of Education standards.
The sub-baccalaureate level could alleviate some of the supply problems the private sector faces as a result of increased demand as well.
"By putting money in, you're creating needed capacity," Hentschke said. "The flip side of that is, if the system ... isn't working very well now, there's a sense that you're [allocating] good money after not so good [prospects]."
As a cheaper alternative to private institutions, enrollment at public universities is growing and enrollment at community colleges is up 22 percent since 2007 alone. Increased demand has put significant strain on the CUNY system, which is comprised of both public four-year institutions and community colleges.
"Enrollment is at an all-time high," Murphy said. "But we realize we cannot keep growing at the rate we've been growing over the past four or five years. We don't have the staff, the money or the funding."
In the face of this ever-increasing demand, new players have emerged as major factors in the world of higher education: For-profit institutions.
The University of Phoenix, a for-profit institution that advertises heavily and sponsors a football stadium in Glendale, Ariz., reported nearly $4.7 billion in revenues in fiscal year 2011. Though down 4 percent from an all-time high of $4.9 billion in 2011, the revenue is more than twice that of the University of Missouri system, which reported $2.7 billion in revenue in 2011.
As unemployment slowly dissipates during a period of economic recovery, the hope is that those who emerge from community colleges gainfully employed will be able to hold on to those jobs for extended periods of time and contribute to the long-term success of the nation's economy.
After running on a platform of economic recovery, President Obama's fourth budget aims to complete an overhaul of the federal financial aid system that he began to tinker with as part of his first budget proposal of his term in 2009. Republican House members will again address the best way to rebuke and revise President Barack Obama's federal budget proposal for 2013 when they return from a short Congressional recess Monday.
A Congress mindful of the federal bottom line, however, will likely be hesitant to approve a $10-billion leveraged package that would add to the federal deficit as currently structured.
Institutions that receive the most federal financial aid will look to this year's federal budget debates intently. USC, which distributes the most federal financial aid among four-year private universities in California according to the most recent U.S. Department of Education statistics ($60.7 million in 2008-09), will certainly be impacted by any structural change to the system.
"Everyone wants to increase access to affordable education," said Jennifer Grodsky, executive director of federal relations for USC. According to Grodsky, the real question is the governmental cost of increased access.
This most recent proposal continues the administration's aim of reducing cost to student borrowers, but it is the greater economic impact and political gamble that worries most on Capitol Hill. Rectifying the two will be the final key to passing a budget that changes a demonstrably outdated system of higher education.
"There's such a broad notion of the importance of education, not just for employment of individuals but for businesses as well," Hentschke said. "The demand for good education and extensive education is not going to go away, the problem with policy [making] then is that one size does have to fit all and that's a challenge."