International
Assad Regime Loyalists Demonstrate In Support On Uprising Anniversary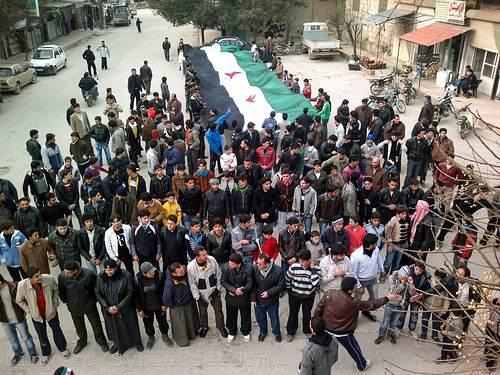 Tens of thousands of demonstrators loyal to the Syrian government stepped out Thursday in Damascus and other major cities to show their support on the one-year anniversary of the uprising against the regime.
Meanwhile, the military has cracked down on rebels, raiding and shelling planned marches. Activists were dismayed by what their movement had become, according to a report by the Associated Press.
One man, Amer Mattar, had fled to Jordan to avoid arrest. "We know that this is a criminal regime, but we didn't expect it to reach this amount of killing," Mattar said. "Now he's (Bashar al-Assad) destroying the country and state institutions are collapsing as he pushes the country toward civil war."
Demonstration reports from the AP point out the level of support Assad has managed to hold onto during his brutal rule.
From the AP:
Tens of thousands rallied in central Damascus, waving Syrian flags and carrying posters of Assad. Syria's state news agency posted photos of similar rallies in other Syrian cities.
"Syria is strong and we will win and undermine this conspiracy," said Damascus shopkeeper Majed Youssef, 30.
The rallies were largely government orchestrated in an attempt to overshadow opposition plans to mark the anniversary. Syria postponed the observance of Arab Teacher Day — usually a day off on the third Thursday of March — for one week, apparently so students could be brought to rallies.
An activist in the southern province of Daraa, where the uprising began, said Syrian forces stormed the village of Nawa early Thursday to round people up.
"They put some of them on buses to take them to a demonstration," said activist Raed al-Suleiman by phone.
The Britain-based Syrian Observatory for Human Rights said residents in the same area had their ID cards confiscated at a military checkpoint and were told they could have them back after attending a pro-regime demonstration.
Other activists said regime forces had brought in reinforcements to tighten their grip on opposition areas.
"It is clear that they have tightened the siege because they are worried about what people will do for the anniversary," said activist Adel al-Omari in Daraa. "There are more troops at the checkpoints and they are arresting lots of people."
United Nations numbers in February tallied 7,500 dead since the uprising began in mid-March last year, but that does not account for the hundreds that have been killed since.
Western leaders are hesitant to provide weapons to the opposition as it could lead to civil war. French foreign minister Alain Juppe told France-Culture radio Thursday, "The Syrian people are deeply divided, and if we give arms to a certain faction of the Syrian opposition, we would make a civil war among Christians, Alawites, Sunnis and Shiites."
As the world powers continue to debate what to do, several have closed their embassies in the country for safety concerns, including the U.S. and Saudi Arabia.