Politics
Analysis: Romney Top Dog In Illinois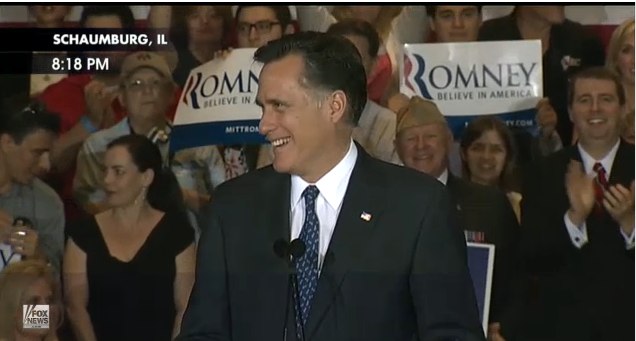 Illinois Republicans did the media a solid on Tuesday and picked a winner early in the night.
It felt so eerily un-primarylike when, less than an hour after the polls closed, the networks were able to make a projection.
No late night twists. No last-second county reports that swing the final tally. No half-pregnant speeches from Romney and Santorum that tried to make a policy statement out of a messy victory.
Instead we got what a real election should be like with a clear frontrunner. Romney took 47 percent of the vote and 41 of the state's 54 delegates, though ten of those were already in the can for Romney because Santorum's campaign was too late (and disorganized) in getting his name on ballots in all the counties.
In all metrics, Romney kicked Santorum's lilly-white ass, something that hadn't occured in a long time; you'd have to go back to Florida's vote back in January to see a Romney victory this solid.
Unsurprising, given the results, the highest priority for voters was "electability," which is Romney's strongest suit (Santourm's base generally chooses "moral character" or "conservative values" or "insanity").
Pundits had pointed to this race as the first time that Santorum and Romney have been able to go at each other man to man, since Newt Gingrich imploded in the Southern primaries last week. If that's so, then it appears at long last Republican voters have decided to file behind the most serious and organized candidate.
Next week is Louisiana, part of the Southern stronghold for Santorum and a chance for some friction to Romney's momentum. Gingrich, who is finding new and impressive ways of making himself irrelevant to the race, lashed out at Romney's victory, claiming it was only the result of his enormous spending advantage. Romney did outspend his opponents 18-1 in the state.
Perhaps. But Gingrich neglected to mention that Romney also has the vote advantage, which ranks fairly high on things the GOP will need to beat Barack Obama--though Republicans have won a race before without it.
The Romney campaign has been loath to play the delegate count as the basis for his nomination; it makes his victory seem mathematical rather than emotional and doesn't provide the momentum he'd want going into the general election.
But on that front, it's quickly becoming an impossible game for Santorum. Unless he starts to rack up some serious upsets in large states like Wisconsin, New Jersey, and importantly California, there's no way he can match Romney's numbers.
Unless a major turnaround happens and upsets start falling at Santorum's feet in rapid succession he'd have to rely on an epic mutiny at the August GOP convention in Tampa. But given that Romney is much more of an establishment candidate, he'd have better luck praying for the whole thing to get snowed out.
Moving forward, Santorum has a rough few weeks with a flurry of East Coast states that are uncontested Romney territory. His goal during that span could just be to perform well enough so that the calls for him to concede don't become deafening.
Not that he'd listen anyway, but the trickier his path to victory the more Romney can focus on the general election.
You know, the way a front runner should.
---
Reach Tom Dotan here