Los Angeles
2012 LA May Day Coalition Calls For Immigrant Rights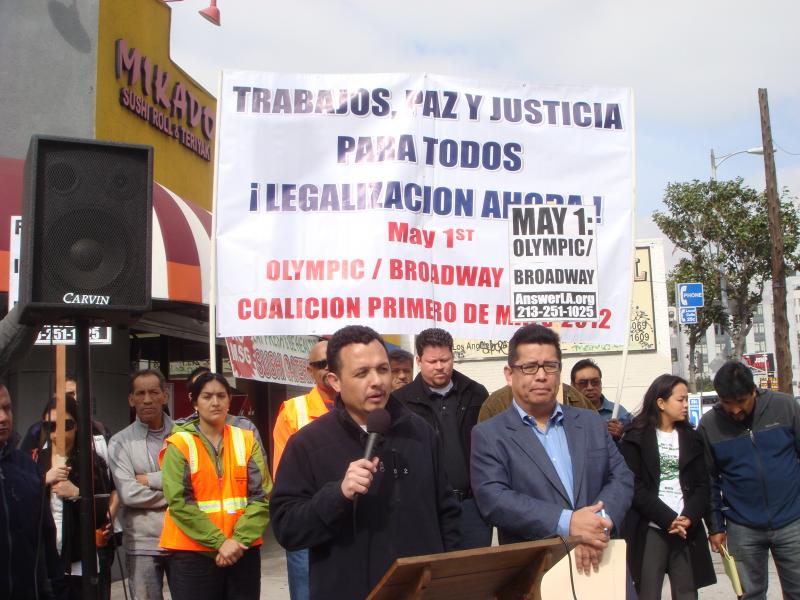 The 2012 LA May Day Coalition gathered Monday to call for immigration reform, workers' rights, students' rights and urge advocates to attend the upcoming May Day 2012 March and Rally. The demonstration is scheduled for May 1, 1 p.m. at the corner of Broadway and Olympic in downtown Los Angeles.
The focus of the news conference was to demand comprehensive immigration reform, well-paying jobs and quality education. President of Vamos Unidos, Juan Jose Gutierrez, said that with the economic downturn, government budget cuts and high unemployment rate, "it's high time that they respect the human rights of immigrants in this country."
Vamos Unidos is a community-based social justice organization founded by low-income Hispanic immigrant street vendors.
"We feel that we are part of the 99 percent," he said.
Gutierrez said he expects immigrants in more than 100 cities will take to the streets in the May Day rally.
"The only difference this year is we are inviting the entire L.A. community," he said, "workers who are feeling the pain of not having jobs or having jobs that are paying a lot less than they were used to, students that are seeing their tuition fees going up."
Gutierrez said President Obama not only failed to keep his election promise of immigration reform, and he even follows a harsher deportation policy than former President George W. Bush's administration. Now they await details of Obama's immigration platform.
"We need to see concrete constructive and positive action on the part of his administration," Gutierrez said.
Ian Thompson, organizer of Act Now to Stop War and End Racism Coalition, said they will merge all the movements like the Occupy movement and bring thousands of people on May 1.
Aquilina Versoza from Pilipino Workers' Center said that Filipino workers are deeply affected by the immigration laws and job loss. Many of them don't have legal status and work in domestic households and warehouses downtown. Versoza said they need to be very visible and vocal in the election year, and those with legal status need to vote for issues they care about May 1.
"This year is a larger momentum of the 99 percent," Versoza said. "The Occupy movement has also inspired the country. So we come out together to embrace all of these issues and to speak out as one voice."
-----------
Reach staff reporter Shako Liu here.