Sports
This Week In The NHL: Columbus' Rick Nash Ignores Trade Rumors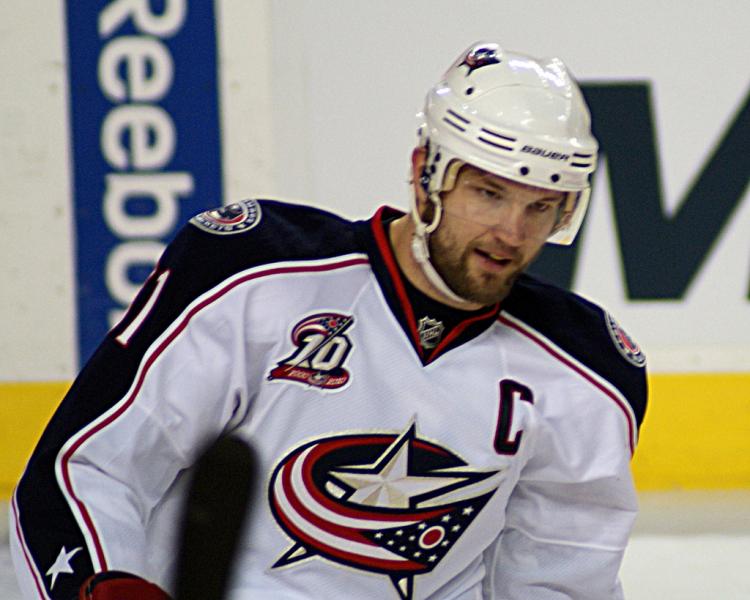 The million dollar question: Where will Columbus Blue Jackets captain Rick Nash go if he is traded?
The forward has given no clues on his future or if he will accept a potential trade to the New York Rangers. The Feb. 27 trade deadline is quickly approaching but Nash isn't worried.
"You know, it's going to take care of itself," he told NHL.com. "I'm a Blue Jacket right now. We're playing great hockey. It's fun to be around. It's been a tough year for us. But for right now, when you're winning games, it becomes a different game."
Injuries
- Philadelphia Flyers defenseman Chris Pronger's prognosis hasn't changed since his concussion in November, his wife Lauren told reporters during the annual Flyers Wives Fight For Lives Carnival. "Unfortunately, I can't report any major improvement. I certainly wish I could. It's disheartening."
- Flyers forward Danny Briere is out with an upper-body injury while fellow teammate Tom Sestito also suffered a lower-body injury on Feb. 16 against the Buffalo Sabres.
- Colorado Avalanche goalie Jean-Sebastien Giguere is on the IR list after a groin injury during a Feb. 15 game against the Vancouver Canucks.
- Tuomo Ruutu of the Carolina Hurricanes is out with an upper-body injury after he was hit by Montreal Canadiens forward Tomas Plekanec during the Feb. 13 game.
Fines/Suspensions
- Kris Verteeg from the Florida Panthers has been fined $2,500 after he cross-checked Washington Capitals forward Jeff Halpern during the February 17 game.
- Minnesota Wild's Warren Peters has been suspended for one game for cross-checking St. Louis Blues center David Backes during the February 18 game. He will forfeit $2,905 for the incident.
- Jordan Staal, forward for the Pittsburgh Penguins, has been fined for $2,500 for boarding Philadephia Flyers defenseman Braydon Coburn during the February 18 game.
Trades/Signings
- Forward Kyle Brodziak has been re-signed by the Minnesota Wild, signing a three-year contract with the team on Feb. 19 for reportedly $2.5 to 3 million per season.
- Tampa Bay Lightning traded Pavel Kubina to the Philadelphia Flyers, in exchange for two draft picks and minor-leaguer Jon Kalinski.
- Nashville Predators acquired defenseman Hal Gill and a conditional 2013 fifth-round pick, in exchange for forwards Robert Slaney and Blake Geoffrion and a 2012 second round pick.
- Tampa Bay Lightning also traded Dominic Moore and a seventh-round pick to the San Jose Sharks, in exchange for a second-round pick in the 2012 NHL Draft.
- Philadelphia Flyers acquired defenseman Nicklas Grossman from the Dallas Stars in exchange for two draft picks.
- Defenseman Johnny Boychuk signed a three-year extension with the Boston Bruins, reportedly worth $10.08 million, according to TSN.
__________________________
Reach Sarah by email, or follow her on Twitter.