Opinion
Use Of Sweatshops In Collegiate Apparel Industry Must Cease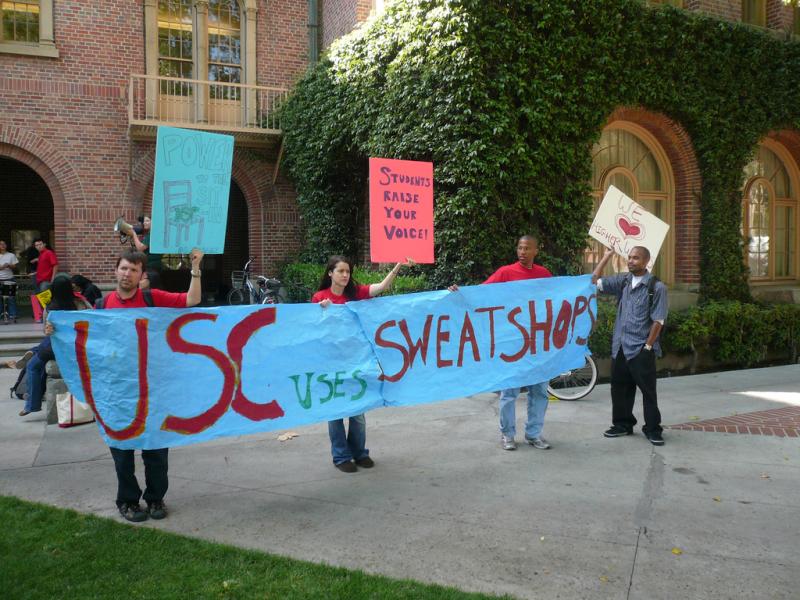 The use of sweatshops in producing collegiate apparel has been a major cause for concern among college students and labor activists. It still is.
The Dallas Cowboys brand of collegiate apparel, Silver Star Merchandising (SSM), sources its clothing from factories around the world. ESPN reporter Mark Fainaru-Wada traveled to Cambodia to check out conditions in two factories that produce SSM apparel, Suntex and Bright Sky.
Workers are psychologically intimidated and harassed by supervisors
Workers are forced to work 10 hours each day, 6 days each week, which means that they are working illegal 60-hour workweeks
Workers earn $0.29 an hour producing hundreds of pieces of clothing, and a total of around $100 a month, which is not only about one-third of a living wage, but is also less than the cost of one item of some kinds of Cowboys' apparel
Workers avoid association with unions, no matter how tenuous the association might be, for fear of reprisals, even though unions are legal
And these are conditions in factories producing apparel for a brand that ranks third in the NFL for merchandising sales, and earned more than $90 million in profits three years ago.
Fainaru-Wada interviewed Bill Priakos who runs the Cowboys' merchandising. Despite the fact that the Fair Labor Association and Worker Rights Consortium, two factory-monitoring organizations, have produced numerous reports of violations in both Bright Sky and Suntex, Priakos still claimed that he had no idea of the conditions in the factories, including the abysmal wages workers are paid for their labor. He stated, "I only know…what we pay for our goods," while at the same time maintaining that the limited number of factories from which the Cowboys' source their apparel allows him and his company to maintain "personal relationships" with the factories.
The Cowboys employ monitoring bodies to investigate the conditions in the factories from which they source their clothing, and yet those audits did not reveal the violations found by one ESPN reporter in one trip to Cambodia. The Dallas Cowboys' own code of conduct for overseas factories must be enforced, is clearly being violated, and now the Cowboys are facing intense scrutiny, mainly on the campuses of Ohio State University and the University of Southern California (USC).
Students at USC are extremely concerned about the 10-year licensing deal their university signed with the Dallas Cowboys last year. Members of USC's Student Coalition Against Labor Exploitation (SCALE) have been in contact with USC's administration, urging them to affiliate with the only truly independent factory-monitoring organization, the Worker Rights Consortium (WRC), in an effort to ensure that the Dallas Cowboys enforce their own, and USC's, code of conduct in their factories.
The labor abuses occuring in these factories are inexcusable, when the companies sourcing from them clearly have the monetary and influential ability to stop them. Perhaps profits matter more to them than improving the lives of hundreds and thousands of workers around the world. The work of labor activists, especially those on college campuses, is essential when it comes to ensuring that workers who make collegiate apparel are treated fairly.
The goal: eliminate the use of sweatshops in the collegiate apparel industry, one step at a time.
Watch the documentary of Mark Fainaru-Wada's trip to Cambodia here.
Reach Senior Opinion Editor Cara Palmer here or follow her on Twitter.