Sports
USC Signing Day Review: Grading Out The Trojans' Signees

Though it didn't end the way Lane Kiffin and Co. were hoping, Wednesday was an excellent way to begin the scholarship-reduction era.
Not only does this class have national headliners in Zach Banner and Nelson Agholor, it is devoid of the "reaches" USC needs to avoid as it looks to maximize their available scholarships.
The staff made a clear effort to target certain positions and they largely succeeded. Offensive line was a particular priority and, in addition to Banner, the Trojans reeled in Jordan Simmons and Max Tuerk, both of whom are capable of playing multiple positions.
The secondary was fortified as well and should see immediate returns with top-ranked junior college transfer Gerald Bowman, who should see immediate time at safety. Cornerback Kevon Seymour had long been targeted by USC and may one day start opposite Devian Shelton, who accepted a late scholarship offer and has the talent to be this class's biggest "sleeper."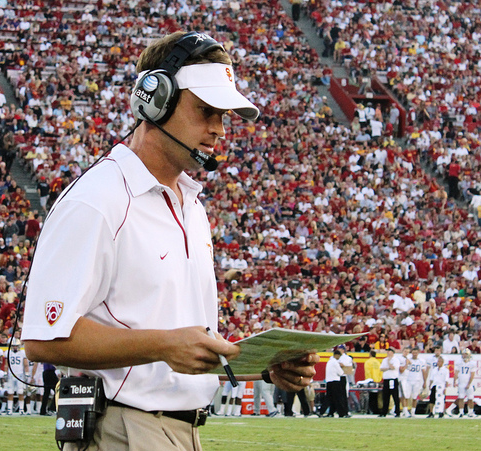 Even at positions where depth is not a current issue, there were great additions. Jabari Ruffin is an athletic marvel, and he and Scott Starr have already gotten high praise from Kiffin as linebackers of the future. Jalen Cope-Fitzpatrick signed as well, the third time in the last five years the top tight end in the nation has come to USC.
The criticisms for this class are largely the result of circumstance and the NCAA-imposed 15 scholarship limit. The lack of a true running back is glaring, but Amir Carlisle's transfer not only drastically changed the complexion of the position, it occurred after most of the top tailbacks in the country had already committed. Though Kiffin acknowledged his concerns about the situation, he was unwilling to dangle one of the precious 15 scholarships. Needless to say, tailback will be a huge priority in 2013.
Though USC would have benefitted in getting more defensive linemen, the addition of standout end Leonard Williams was a huge coup. Not only is he expected to contribute right away, the signings of him and receiver Nelson Agholor strengthen the recruiting pipeline that USC has built with the state of Florida.
Of course, there is no sugarcoating the disappointment coaches and fans alike feel about not getting offensive linement Kyle Murphy or Andrus Peat, the biggest disappointment of Signing Day. Both prospects are in the same category as Banner and the addition of either one would have made this arguably the greatest offensive line class in school history. Even worse, they'll both be suiting up for Pac-12 foe Stanford.
In the end though, the good far outweighs the bad. What this class lacks in quantity, it certainly makes up for in quality.
Final Grade: A-
You can see a full list of USC's signees and links to profiles at this page.
Immediate Impact Player: WR Nelson Agholor - This will be a classic case of a guy simply being too good and versatile to redshirt. As deep as the receiver position is for USC, Agholor is relishing the opportunity to compete and seems to have a maturity level and determination similar to Robert Woods and Marquis Lee. It would be very surprising if he doesn't enter fall camp in ideal shape and mentally prepared to devote himself to learning the playbook, important traits for early playing time.
Furthermore, his running back abilities will arrive at a perfect time for USC. With playing time conceivably up for grabs and depth seriously lacking, don't be surprised to see him as a "spot" running back as well, where the coaches give him a few carries a game and try to get him into open space where he can utilize his 4.4 speed.
USC Class "Sleeper": CB Devian Shelton - The last of the signees to receive a scholarship, Shelton passed up offers from the likes of Tennessee and Nebraska to attend his "dream school." This fact can't be disregarded because he'd clearly be more inclined than others to stay at USC if he doesn't get early playing time.
Shelton brings a lot of good attributes to the table, beginning with a combination of size and physicality that borders on "nastiness." If he's committed to refining his playing style as he waits for a chance at playing time, he could surprise some and become a very valuable contributor in USC's secondary.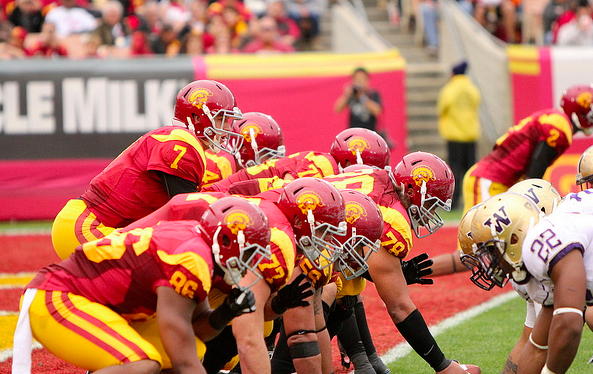 Most Likely To Be A Top Draft Pick: OT Zach Banner - Simply put, there isn't a lineman, and maybe not any player at all, in the entire 2012 class with as much upside as Banner. At 6-foot-9 and well over 300 pounds, he has a combination of size and athleticism that is very rarely seen; comparisons are already being made to Jonathon Ogden.
Whether or not he achieves his potential is entirely dependent on how he develops at USC. As great as Banner's natural ability is, his technique isn't very refined; he needs to learn to play with better pad level and leverage.
That being said, Banner has a great attitude and is very coachable. He showed signs of improved technique in all-star games under more structured coaching, not to mention an ability to take charge and motivate his teammates. While he's by no means a finished product now, after four years of development at USC, Banner will become the latest in a long line of Trojan linemen to hear their name called very early in the draft.
Biggest (Non-USC) Signing Day Surprise: Deontay Greenberry to Houston - This one really came out of nowhere. Greenberry had long been considered a solid commit to Notre Dame, where he would be a "package deal" with his cousin Tee Shepard. Instead, he's separating from Shepard and going to a school transitioning from Conference USA to the Big East- that is, one not accustomed to signing top-50 players. Turns out this was such a surprise that Houston's head coach didn't even know it was coming.
Signing Day Winner: Stanford - This will forever be remembered as the class of the offensive linemen. Just how good was it? The Cardinal landed three of the top eight o-linemen in the country and signed seven overall. While Josh Garnett is a great talent and will likely move to guard, the two headliners are tackles Andrus Peat and Kyle Murphy, who many thought wouldn't go to the same school.
Who will they be blocking for? Barry Sanders... yes, the son of that Barry Sanders. Five-star defensive tackle Aziz Shittu will be going to The Farm as well, where he'll be joined by top linebacker Noor Davis. It turns out there is life after Andrew Luck, after all.
Signing Day Loser: Cal - Though this one was predictable, it doesn't make it any less devastating. Once thought to be headed for one of the country's best classes, they are left trying to pick up the pieces after ace recruiter Tosh Lupoi's departure for Washington.
Gone are top recruits like Shaq Thompson, Ellis McCarthy, and Jordan Payton. Gone are the chances for getting others like Arik Armstead, Pio Vatuvei, and Aziz Shittu. Gone are the hopes that this was a program on the ascent to the top tier of the Pac-12. At least there's basketball?
________________________